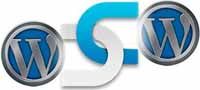 Best Related Posts plugin for wordpress blogs. Showing related posts at the end of your article is the best way of linking your posts internally and also one way of getting search engines find your older posts easier, thus increasing your wordpress SEO optimization.
Related posts plugin for wordpress, does this job for you automatically. Apart from the advantage for SEO point of view, these Related posts plugin for wordpress blogs displaying  list of related posts at the end of your post content is a great way of showing your other related posts to your readers. Thus engaging and making your readers stay longer and also reduce bounce rate.
I have tested quite a few Related posts plugin for wordPress blog. And here is a list of 5 of the best Related posts plugin for wordpress Blogs. I'm sure you too, most probably already using one of these related posts plugin for wordpress blog or if not will surely find this post help you to choose one.
A very simple to use Related posts plugin for wordpress. Just install it and activate, there are just few options for you to choose and the plugin does the job. It shows related posts via your categories and tags along with the posts thumbnails. You have the options to show how many related posts to show. For a beginner I feel this will be the best choice of related posts plugin for wordpress. You can download this related post plugin for wordPress from HERE.
2. YARPP ( Yet Another Related Post Plugin):
         

As the name says this is Yet Another related posts plugin for wordpress blogs. This plugin provides you with a complete list of pages or posts related to your current post. This is a very popular related posts plugin for wordpress. But I found, it has some compatibility issues with other plugins (well that was the case with me). Though I didn't investigate much but I feel its something to do with the minify plugin or my theme (could be a isolated case). But YARPP is a great related posts plugin for wordpress. You can download it from HERE.

3. nRelate Related Content:  ( update: nRelate Plugin has been discontinued)



If you want to show related content with thumbnails and text of different types, this related post word press plugin should be your choice. This plugin offers you with different styles to show your related content, to mention a few, Bloginity style,linkwithin style, Huffington post style, Trendland style,Polaroid style, Text style etc. You can also register for partnership and earn money, in which nRelate displays other relevant content mixed with your related content. A great way to earn some cash, you can read the full article 3 Easy steps How to earn money with nRelate. 
4. WP-THUMBIE: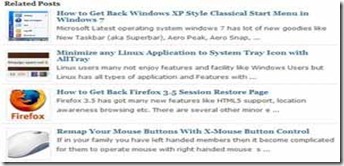 Another great Related posts plugin for wordpress blogs. It displays your related content along with thumbnail's. Under the settings of the plugin, you can select the number posts to be displayed and also the size of the thumbnails to match your themes container size.Displays Related Posts with thumbnail image automatically in content / feed, no need to edit template files.You can also manually add code to your template where you want the Wp-thumbie to be displayed. You can download the plugin from HERE.
5. RELATED POSTS THUMBNAILS: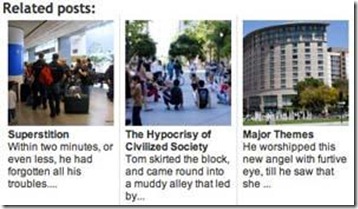 Nothing to say much about this plugin, the name speaks for itself. This is very simple Related posts plugin for wordpress. Easy to install and configure. The plugin allows you to customize size for thumbnails and also configure related post display settings. This Plugin is very widely used and popular too among bloggers. I feel this should be a second choice for beginner besides WordPress related posts plugins as stated above. Download the latest  version 
These are my choice of 5 Best Related Posts Plugin for wordpress.  Hope it helps you to choose the one best suited for your blog. Which Related posts plugin do you use ? Share your experience with us.
Posted By: Ben Jamir
Ben Jamir is the Founder and Author of Tipsnfreeware. He is a part time Blogger, sharing his experience and giving a Helping hand to Home users. You will find here the best Windows Tips,Tricks and quality Freeware.