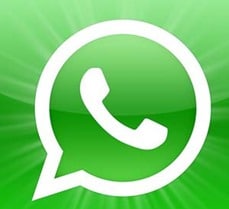 What is WhatsApp ? I bet you know that (stupid question I know). But here are some 6 whatsApp tips and hacks, I bet you didn't know.
WhatsApp has been growing day by day. With over 850 million and counting users all over the world. The ease of sending messages, instantly sharing pictures, audio files, making calls for free. Its just the app everyone crazes for.
If you are one of whatsApp user, I am sure there must be many things in whatsApp which are confusing and annoying too.
Don't worry, everything has a solution. Just sit back and read these 6 whatsApp tips and hacks, I bet you didn't know.
You can watch this short video ……
Don't Like the Video ? than go on reading….
1: How to Hide Last Seen Time: 
When you open whatsApp, and look at your contacts, whatsApp always shows the "Last seen" time against their name or even your name. So they know when you last checked whatsApp. Well if you don't want whatsApp to show that "Last seen" information..
Go to menu > settings > Account > Privacy > under privacy tap on "last seen" and here tap to select "Nobody". That's it now none of your contact will know when you checked whatsApp last. But remember this will also prevent you from being able to see other peoples last seen time. This change is Global. You can change it, if you want to.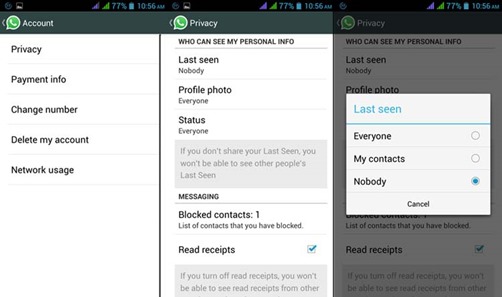 2: How To check when your message was read:
Normally you can tell that your message has been received and read when the two ticks next to the message turns blue. But if you want to know more info. just tap and hold the message and than tap on info. whatsApp will show the precise time and date when the message was read. In iOS tap and drag the message to the left.
3: Lock your WhatsApp :
In Android there are plenty of security apps, which will enable you to password protect whatsApp chats. Unfortunately as of now there is no way to do that in iOS without jailbreaking.
Some of these Android apps, interestingly can even take a snapshot if someone tries to access whatsApp with a wrong PIN. You can try WhatsLock, AppLock. For Windows phone try WhatsApp Locker.
4: Take WhatsApp To your New Phone:
If you change your phone to a new phone iPhone or Android. You can easily transfer your chat history. Almost all phones have a micro SD, so just go to menu > settings> Chat settings > Backup conversations. WhatsApp will backup all your chats.
Now insert the SD card in your new phone. Install whatsApp in the new phone and when prompted, tap on restore. But if your backup is on internal storage memory. You can use a file explorer find the whatsApp folder and move the content to the SD card manually.
5: Send Private message in Bulk:
You can save a lot of time by sending the same message as bulk message to your chosen contacts. Your recipient will not know that its a group message.
This you can do by using the "New broadcast" feature in whatsApp. This feature lets you send the same message to multiple contacts. But to the recipient it will appear as a private message.
To use this feature, tap on menu > New broadcast. In iOS phone on the chat screen tap on Broadcast lists and select new List.
6: How to use WhatsApp on your PC or Laptop:
Yes now you can use WhatsApp from your computer or Laptop. You will need to have the latest version of WhatsApp installed on your phone.
As of now it works with Google Chrome. Go to WhatsApp Web. It will show a QR code.


In your phone tap on menu > tap on "WhatsApp Web" it will go in to scan mode. Scan the QR code that is displayed on your PC or Laptop screen. It takes a few second to connect.
Remember your phone must be connected to the Internet, preferably with a wi-fi. As the app will sync everything from your phone. All your contacts and chats will be displayed on your PC or Laptop and you can use whatsApp from your PC or Laptop.
There are many WhatsApp tips and hacks. But I feel these 6 whatsApp Tips and hacks are very useful and will come in handy.
Ben Jamir is the Founder and Author of Tipsnfreeware. He is a part time Blogger, sharing his experience and giving a Helping hand to Home users. You will find here the best Windows Tips,Tricks and quality Freeware.