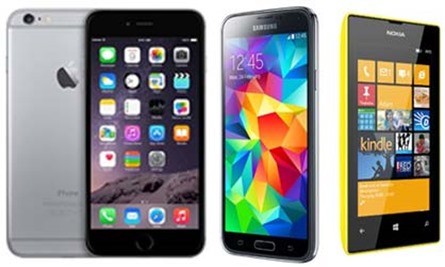 There is no such thing as "This time of the year is the best time to buy a new Cellphone". But FESTIVE TIME (any festive) is definitely a good time to choose a new Cellphone.
Why ? Because this is time when manufacturers releases the latest models. Just in time for the holiday shopping season, so its likely that you might be lucky to get the best model. You might even get a discount offer too. So why wait for the next season.
Here is a simple guide on how to choose a new cellphone:
First Thing First : Asks yourself "Do I Need A Smartphone ?
This is for the first timers. If you have been using a basic cellphone (those with keypads) all these years, and you have been doing fine with that.Do you really need to switch over to smartphones?
Why ? Because changing from a basic cellphone to a touch sensitive smartphone, will make many first timers confused. So decide first. (Though it doesn't take much time to get used to it).
WHY YOU SHOULD OPT FOR A SMARTPHONE:
1: You will discover many new things you never thought you could do on a cellphone.
2: There are plethora of apps, most of them free. There are apps for almost anything you can think of.
3: You can read a E-book
4:  Send and check your E-mails.
5: Connect to Facebook easily, share photos. Take great pictures with that tiny camera……….
Well the list can go on and on. First timers time to decide now…..
So ! if you have decided to go ahead for the Smartphone. Here is a brief descriptions of three major Operating systems of Smartphone, to help you decide.
Which Operating System to Choose ?
This is the most important decision for all cellphone users. Because what you decide now will greatly influence all your future smartphones. Those who are already using smartphones, will agree with me that, its not easy to switch operating system (Apple's iOS, Android, Windows)
There are three Major players in this, Apple's iOS, Android and Windows.
With Apple's iOS, you can choose a variety of iPhone, like the giant iPhone 6 or the older versions like iPhone 5s etc. Apple is the only company that makes iOS phones.So any app that goes in to app store, Apple has to approve it first. This does ensure quality. One advantage of iOS is that iPhones work well with other Apple devices like iPads, and Mac computers.
Google's Android: Google's Android operating system offers even more choices. Android OS is flexible, which means that phone makers can customize Android OS according to their liking. Examples are Samsung, LG, Sony, Motorola, to name a few. Advantage is that Android App developers have more say in what they write for Android phones.
That's why there are just too many apps available for this platform. The disadvantage is that, this flexibility in Android OS, has created a free-for- all environment. So settings and features vary from phone to phone.
Windows OS: Microsoft Windows operating system, is good one too. And its promising too. If you already own a Windows PC, you will find it easier to get used to this OS smartphones. But there are very few apps as of now.
HOW MUCH SHOULD YOU SPEND FOR A SMARTPHONE :
This is something for you to decide, because it all depends on how much can you spend. At first it might be tempting to buy the latest iPhone or the Samsung Galaxy Phones. But these smartphones are expensive.
But before you decide to shell out the money, first ask yourself, do you really need all that power the phone offers ? What would be your main usage?. Its known that 90 % of smartphone users do not use 30 to 40 % of the phones features. Either they don't know how to use or just don't use those extra features. So why pay more for features which you don't require or will never use them, during the life of the phone?  
We at TNF have reviewed some best buy smartphones under certain price range. Check these out.
1. Best buy Budget smartphone's under Rs. 10,000 (ten thousand)
2. 5 Best buy Smartphones between Rs. 15,000 to Rs. 20,000
3: 5 Best Battery Backup Smartphones under Rs. 12,000.
Ben Jamir is the Founder and Author of Tipsnfreeware. He is a part time Blogger, sharing his experience and giving a Helping hand to Home users. You will find here the best Windows Tips,Tricks and quality Freeware.