Delete Locked Files with this freeware UNLOCKER
Access Denied, Have you ever come across these annoying error messages like Error deleting file or Folder. Access denied, cannot delete folder or error message like its being used by another person or program. Unable to rename a file or Folder or unable to move a file from one location to another?
Windows is continuously being improved and updated. But there's always some or the other annoying errors every window users faces. And one of these irritating error messages is when you try to delete locked files or a folder, rename or move a file or folder, windows display's these messages.
Cannot delete file
Access denied
There has been a sharing violation (what ever it may mean)
The source or destination file may be in use.
The file is in use by another program or user.
Make sure the disk is not full or write protected.
The file is not currently in use.
So, how to delete locked files. Even though the file or the folder you are trying to delete is closed and you are sure that the file is not open or in use. Yet windows won't accept and will display such error messages. Here is a simple free tool to delete locked files in windows.
Some program files might sometimes run in the background even after closing the program. These processes can be easily stopped by going to the windows Task manager than stopping the process and than you are able to delete locked files or the folder.
UNLOCKER is a very small, light software solution for these type of error messages. This small utility helps renaming, move or delete locked files and folders with a single click, through a very simple yet efficient interface.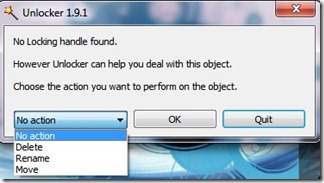 It's a very basic software to delete locked files, sits quietly in the system tray and opens the main program when you double click its icon.
The software basically adds an entry within the right click context menu of the windows explorer, to delete locked files. And can be launched whenever a file triggers the above mentioned error messages. And the software unlocks all the processes that are accessing the file. You get the options to Delete, Rename, Move etc. If the software fails to perform the requested command, than it performs the task after windows is restarted.
Unlocker is currently supported by all versions of windows and is also available in both 32 bit and 64 bit versions. FREEWARE. Unlocker is a Must have tool, for any window OS users to delete locked files and folders.
NOTE: Unlocker may include optional bundled software that may trigger alerts from security software, specially if you have firewall installed. However its been thoroughly tested for malware and has been cleared to be free from any spyware or malware.
You can Download the Latest version of UNLOCKER.
Have you used this software ? Try and share your opinion.
Posted By: Ben Jamir
Ben Jamir is the Founder and Author of Tipsnfreeware. He is a part time Blogger, sharing his experience and giving a Helping hand to Home users. You will find here the best Windows Tips,Tricks and quality Freeware.