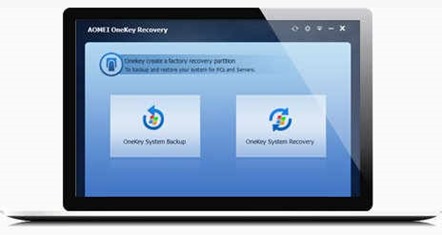 AOMEI OneKey Recovery tool, helps you to Create a Factory Restore Partition. A very useful tool make a system backup and restore point, in the event disaster strikes.
For any reason if your computer fails to boot, or you see the dreaded warning sign "Boot failure" or "Operating system not found" error. Its every computer users nightmare situation.
Specially so if you are not prepared for this type of situation. Today we will introduce you to a very practical tool to rescue you from such events.
AOMEI OneKey Recovery.

AOMEI OneKey Recovery is a brand new tool that allows Windows users to create a recovery partition and one key backup system on their PC. The tool is primarily designed for use on a system whose on recovery partition has been lost, but should work with any PC.
Download and install the AOMEI ONEKEY RECOVERY tool 
Step 1: Launch the tool and follow these steps to make a Factory Recovery Partition. You will see this window.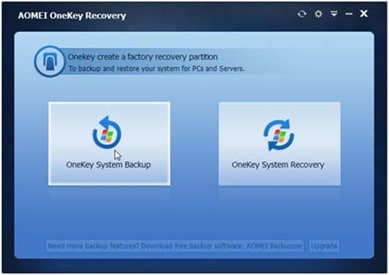 Step 2: Click on the "OneKey System Backup" button.
Step 3: Make sure that your hard disk has enough space to save the system image file. Select the partition which has maximum space. Because the size
of the system backup image file, will depend on how big is your C drive.
Aomei OneKey tool will automatically divide the partition you choose to create a factory recovery partition type.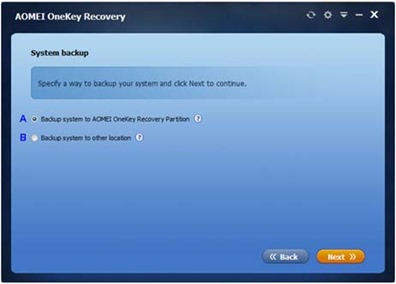 Step 3: The tool can create its own as Aomei OneKey Recovery Partition or you can specify a location, like on a separate partition of your choice. The tool will create and backup the system image file on a recovery bootable environment. Click next. See the image below.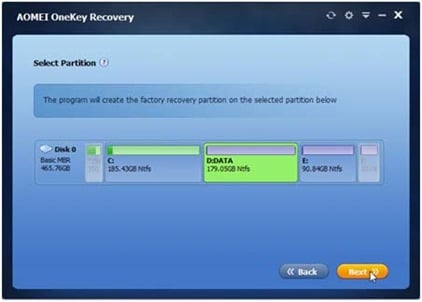 Step 4: The program will create the factory recovery partition on the selected partition. It will also show you the changes made to the partition before and after creating the recovery partition. The created partition will have a "+" sign.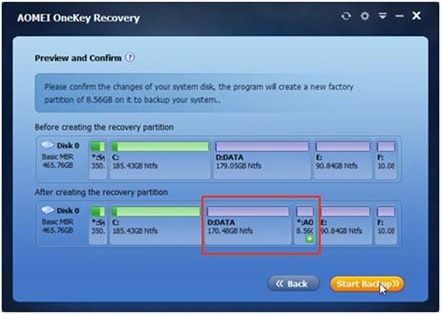 Step 5: In the preview and confirm window, the program will ask you to confirm the changes of your system disk. Now click on "Start backup" button. Aomei OneClick recovery tool will start back up of your system image file in the recovery partition created earlier.
In the event of system crash or virus infection, you can easily restore your system via the Aomei recovery environment, just by pressing "A" on startup. This will restore your system, to the exact state when it was backed up.
Aomei OneKey Recovery program have been designed to backup and restore for desktops and laptops. This tool supports all versions of Windows OS up to Windows 8.1.
Aomei OneKey Recovery program is very easy to use system backup and restore tool. All you have to do is to backup and restore your system, from the existing image file.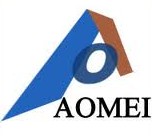 This article is Contributed by
Lori of AOMEI Technology
.You can Contact them for any further information and support at this mail add.
[email protected]
or contact their
SUPPORT CENTER
Ben Jamir is the Founder and Author of Tipsnfreeware. He is a part time Blogger, sharing his experience and giving a Helping hand to Home users. You will find here the best Windows Tips,Tricks and quality Freeware.