AOMEI Partition Assistant Standard Version 5.5 Review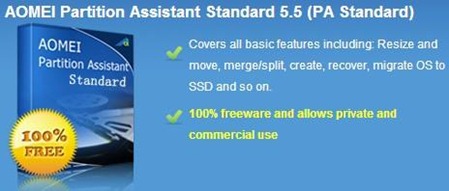 Sometime back I wrote a review on Aomei Partition Assistant Home Edition. Now Aomei has just released the "Aomei Partition assistant standard Version 5.5" with all new features. Several exciting new features have been added, including Windows 8 To Go Creator. A feature I feel no other windows disk management tool has.
So, Here's a review of one of the Top rated and best Windows Disk Management utility.
Introduction
The built in windows disk management utility offers bare minimum features. Many people prefer to use a standalone windows disk management utility. Especially when we face situations, when we need to do complex hard disk management .
Here today we are going to introduce you a utility which is a perfect, if not better substitute for Disk Management in your Windows PC. Considered one of the Best Windows disk management utility.
With the efforts made by AOMEI Tech in the last four months, the new upgrade of Windows partition management freeware AOMEI Partition Assistant has been announced recently. AOMEI Partition Assistant Standard Version 5.5 (APAS). Several exciting new features have been added in APAS with this upgrade this time. And one of them is rather useful for users of Windows 8.
Main Functions
1. resize/move/merge/split partitions
2. create/delete/formant/wipe/hide partitions
3. clone disk/partition
4. partition recovery
5. convert FAT32 to NTFS and vice versa
6. convert primary partition to logical partition
7. migrate OS to SSD
The functions above are all designed based on the principle of "no data loss". All the operations involved with the change of partition size, partition location or the type of partitions in APAS won't cause any damage to the data on your hard drive. To be fair, the functions AOMEI Partition Assistant Standard has added are more powerful than those of some paid software.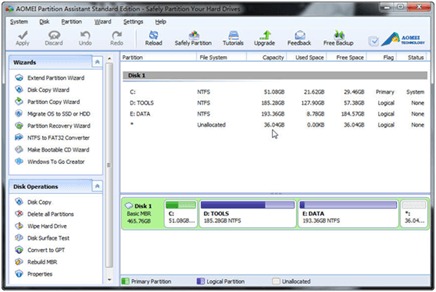 New Features in Version 5.5
1. Windows 8 To Go Creator
This is the most exciting new function in APAS version 5.5. For your information, Windows To Go is the service that is provided by Microsoft in Windows 8 Enterprise Edition only. By creating a Windows To Go bootable USB drive in Windows Enterprise Edition built-in WTG Creator Center, one can use his/her own Windows 8 OS anywhere he/she wants.
So far, we cannot find any other utilities support this function except AOMEI Partition Assistant. In APAS, you just need to prepare a USB drive larger than 13 GB as well as a Windows 8 image ISO file. It works in the same way as it does in Windows 8 Enterprise Edition.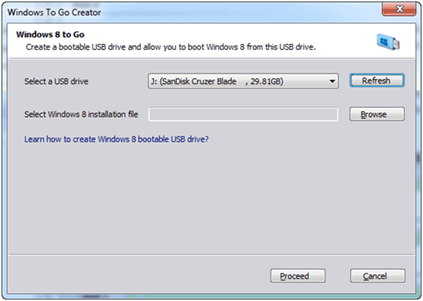 2. Create Bootable CD without AIK/WAIK, AIK (or WAIK) is big in size and we have to download it before creating a bootable CD of APAS in the past. Now AOMEI Tech has simplified the process of making bootable CD for us. Creating bootable CD without AIK/WAIK is now available.
Verdict
While the other Windows hard drive management utilities on the market become more and more homogeneous, AOMEI Partition Assistant Standard Version 5.5 just shocked everyone with the new function Windows To Go Creator this time. APAS is without a doubt, one of the best windows disc management tool, a freeware for Windows clients.
We at TNF sincerely recommend this software to anyone who has a need of advanced hard drive management utility for Windows. Give it a try and share your opinion with us.
For more info and Download Aomei Partition Assistant Standard Version 5.5
Ben Jamir is the Founder and Author of Tipsnfreeware. He is a part time Blogger, sharing his experience and giving a Helping hand to Home users. You will find here the best Windows Tips,Tricks and quality Freeware.