Here in tipsnfreeware, we have shared 16 killer tips for improving the battery life on your Android smartphone and device. But sometimes, you might find your battery draining way too fast. And you might just need to analyze to see exactly what's causing the problem before you can fix it.
Here is an Android app that does an excellent job. Analyzing all your running apps and generates a report,which app is consuming more power. So you can selectively deactivate it to save battery power.
ANDROID APP TO ANALYZE AND IMPROVE BATTERY LIFE: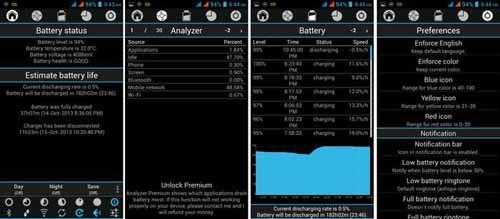 Battery Drain Analyzer is such an app that tracks your battery and power usage. One of the best Android App To Analyze And Improve Battery Life.  It works behind-the-scene and gives you an idea of what's using the most juice. It offers tons of statistics and numbers that will satisfy even the most demanding power user.
Battery Drain Analyzer app will analyze app and power usage and lets you know which apps are draining the most power. As you can see from the above image. The Analyzer screen shows what percentage of app drain is caused by what system activity. Whether your screen, applications, phone idling, WiFi or Bluetooth radios, etc. For example if "Whats app" is using 45% of the battery drain , you get a pretty good idea of what's causing your battery drain
Besides the app also shows several graphs that show a history of your battery life. For example how long your battery lasted every day for the past three weeks. Information about your everyday usage. Which days your usage was more, and on which days you saved more hours of battery life etc. Information like that becomes extremely handy for adjusting your usage habits to maximize battery life.
Another great feature, we found is the battery life estimation the app displays. The App takes into account your usage habits along with the current running apps. And gives you a rough estimate of how long your battery will last. And how quickly it's discharging.
This can come handy to see if your battery is going to last until the end of the day or if you're going to need to charge in the next few hours.
Overall, it's an excellent, Android App To Analyze And Improve Battery Life
Download Battery Drain Analyzer  from Google Play store.
Posted By: Ben Jamir
Ben Jamir is the Founder and Author of Tipsnfreeware. He is a part time Blogger, sharing his experience and giving a Helping hand to Home users. You will find here the best Windows Tips,Tricks and quality Freeware.