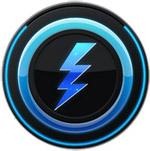 Now a days owning a smart phone without Android OS is almost unthinkable. While Android apps provide wonderful utilities to the user. These apps also consume Battery at different rates when they are in use.
Many users blame the phone makers about the poor battery performance of a smart phone. Without realizing the amount of multi tasking that we do on our phone. Like sharing a photo in whats app, sending messages, at the same time listening to music. Just think how effectively Android manages all these tasks, but at the cost of your Battery life.
I have tried quite a few Android battery optimization apps. Though they work but not up to the expectations. But one App, Linpus Battery optimization app, is by far the most effective battery optimizer app for android.
Linpus Battery Optimizer, is a fully featured battery optimizer app for Android. With several stand out features, that will satisfy any user.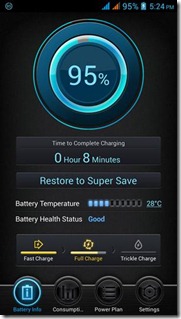 While being very effective, it also has the most appealing user interface.
This app intelligently monitors battery usage for each app. Instantly updates the length of time you can use an app for before the battery is drained. For example, if you want to watch a movie. The app looks at how much battery is left and estimates how many hours before the battery dies. So you can plan if you can watch the whole movie , or you need to close other apps or charge.
MAIN FEATURES OF LINPUS BATTERY OPTIMIZER APP:
Battery Info:
Shows battery health and temperature.

Shows time estimation and percentage for battery usage.

Shows time estimation and percentage for charging.

Shows battery life for different scenarios, e.g. standby, call, video & music playback, web surfing and so on.
Charging:
Supports fast charge, full charge and trickle charge.

Show tips for different charging stages.
Consumption:
Shows instant power consumption for each app with ranking.

You can Can kill an app from the app list to save power.

Shows instant power consumption for hardware components with rankings.

Can adjust the setting for each hardware component.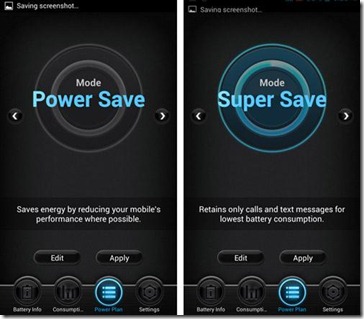 Power Plan:
Supports four modes: User Custom, Balanced, Power Save, and Super Save modes.

Records initial settings to User Custom mode.

Users can set values as they like for all modes.

Shows time estimation for each mode.
Intelligent Power Saving:
Can automatically switch to another mode when the power is lower than a certain threshold.

Can automatically disable all connectivity like wi-fi, Bluetooth, when the battery goes below a certain threshold.

Shows notification when the battery is fully charged, visual and audio.

Show notification when the battery is lower than a certain threshold.
Now that's a lot of features, which will satisfy any user. Without a doubt this is one of the best battery optimizer app for android phones, tablets.
Download LINPUS BATTERY OPTIMIZER FREE
Posted By: Ben Jamir
Ben Jamir is the Founder and Author of Tipsnfreeware. He is a part time Blogger, sharing his experience and giving a Helping hand to Home users. You will find here the best Windows Tips,Tricks and quality Freeware.