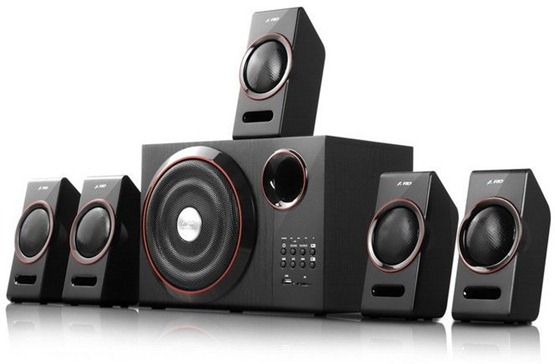 Best Home theater system, within your reach. In this age of Digital entertainment, the desktop computer has become one of the most powerful entertainment source.These days we don't just watch movies but we watch High definition movies, Videos more than ever and Computers are replacing the VCD and DVD players in our living rooms. Because this is a device that can do almost anything under the sun as far as entertainment is concerned. But what a computer can do to your high definition multi channel movie or game without a perfect surround sound speaker system. I mean a perfect set of Best Home theater system.
Talking about Best Home theater system, be it 2.1, 5.1 or 7.1 speaker system, there are plenty in the market. Price ranging from few hundred dollars to thousands of dollars. If you have a fat wallet, well than this post is not for you. This is for those who are seeking for Best Home theater system with reasonable and affordable price, but performance wise can compete with any high end speaker system.
F&D F3000U  5.1 Home theater speaker system from FENDA, is one of the best home theater system, in the market as of now (for price see below). The speakers are built very well and the plus point is that the subwoofer has a wooden chassis which gives a clear warm bass.The sub-woofer is not very large (5.25 inch) with a reflex port on the front and the basic controls on the front. The controls are digital and there is a IR remote control too. Audio inputs for the 5.1 channel is via RCA connectors, there is also facility for stereo auxiliary input.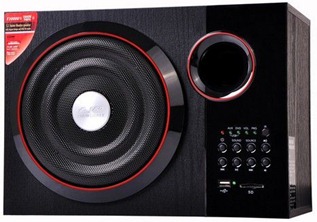 The best part is the speakers also support MP3 and WMA playback via USB drive and memory cards like SD/MMC/MS cards. The power supply is built in the woofer.
The satellite speakers has a 3 inch drivers which are protected by metallic grills.
Performance: The speakers delivers very rich audio with almost no distortion at all. The bass is deep with no echo or distortion. The satellite speakers too performs very well and gives very clear highs and mids. Listening to music, watching a movie in this speaker set is a pleasure which needs to be experienced. Clear sound and good warm bass.
But you have to allow it some time to warm it up for it to perform at its full potential. Pro-logic mode is great as it allows for all 5 speaker to output sound when the sound source does not have all 5 channels. This is another plus point as most Mp3's do not have more than 2 channels. All types of connecting wires are provided so that it can be connected to everything from TV's to Phones with 3.5mm jack.
Key Features of F&D F3000U 5.1 Multimedia Speakers
5.1 Channel Configuration

Wood Chassis

1 Subwoofer

4 Satellites with 1 Center Satellite

Plug and Play
PRICE: Ranges from Rs.4800 to 5000 depending from where you buy. Flipkart offering at Rs 4800 at the time of writing this post.
Great set of speakers. You probably wont get a better set of best home theater system at this price point.
UPDATE : Buy at amazon , price as on August 2014 is Rs. 4699.00
Note: This is not a paid review, nor do I have any connection with the maker. This is purely my personal opinion of this sound system
Posted By: Ben Jamir
Ben Jamir is the Founder and Author of Tipsnfreeware. He is a part time Blogger, sharing his experience and giving a Helping hand to Home users. You will find here the best Windows Tips,Tricks and quality Freeware.