"Best call blocker App for Android Phones"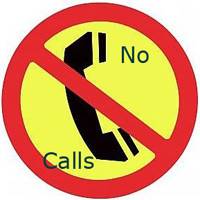 If you search the web for best call blocker app for Android phones , you will find hundreds of free apps, claiming to be the best call blocker app for android phones. 
But trust me none worked perfectly as they claim to be. I have tried more than 10 such apps,none satisfied me. If one app could block calls, not in my white list (contacts lists), it failed to block messages and vice versa. Some apps just mutes your phone if a number is blacklisted. That I feel, being impolite.
So what features would you like in a call blocker app?
If you are like me I would rate an app as the best call blocker app for android phones, with the following….main features:
Easy to use

Block all calls except those on my contacts list.

Selectively block messages.

Send a busy tone for all blocked calls.

You can add manually numbers for both white list and black lists.

Shows notification whenever a call is blocked.

Shows the number, time and date for blocked calls.
If these are the main features you want in a call blocker app. Than you are at the right place.
NQ Call Blocker, is what you should have. This is one of the best call blocker app for android phones. We have tried this app for more than three months before deciding to write this post.
I have a dual SIM phone and this app works on both. Now without wasting much time, lets see the features of this app, as to why we rated this App as the best call blocker app for android phones.
Screen shots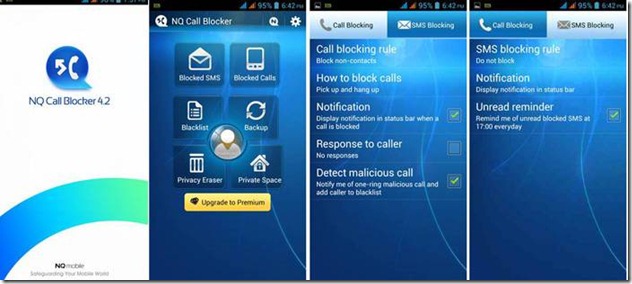 FEATURES OF NQ CALL BLOCKER APP:
Block unwanted calls (Reject calls, forward or reply with an auto-SMS)

Block spam SMS (accept phonebook only or simply block black list SMS)

Contact Backup

Back up contacts to a server, so you will never lose them!

Transfer data to new phone (available cross-platform to Symbian / Android / BlackBerry device) handy feature.

Privacy Eraser

Quickly and easily erase the call history, delete SMS messages between your phone and individual contacts permanently to protect private data.
Premium Version has the following extra features:
Automatically move private contacts' messages and call logs to a Private Space so that they don't appear in the phone's regular SMS and call logs

Keep secrets by hiding the icon as displayed on the main screen, so that nobody knows you are using Private Space.

Protect your REAL space by creating one or more fake spaces. If anyone wants your password, show her/him the fake one!
I use the free version and it has all the features I need. If you are looking for the best call blocking app for android phones, than this is it. Give it a try and share your opinion with us.
A WORD OF CAUTION: Please note that installing call blocking apps such as: Mr. Number, Easy Filer Call Blocker & SMS, Call Filter, Call Control and Blacklist on your phone with NQ Call Blocker together may make your phone unstable or cause potential conflict.
You can try any number of Apps, but uninstall first before trying another app
Download NQ call blocker app from Google play store FREE
Ben Jamir is the Founder and Author of Tipsnfreeware. He is a part time Blogger, sharing his experience and giving a Helping hand to Home users. You will find here the best Windows Tips,Tricks and quality Freeware.