Free CD-DVD Burning Software.
NERO is still one of the best software  for CD / DVD burning purposes. But this software is expensive and bulky too, comes with lots of programs which you will probably never use.
If you only need to burn a data CD/DVD or a Music ,Video Disk. Why not try some freeware burning apps to burn all your CD /DVD. Which can well serve as an excellent alternative to Nero burning ROM.
Here are a list of TOP FREE CD-DVD burning software for you to choose.

1: CDBurner XP Pro:

CDBurner XP pro is a free cd-dvd burning software, to burn your CDs and DVs, including Blu-ray and HD-DVDs. CDBurner XP supports several types of optical disc incuding DVD,CD,Blue-ray. It has a very user friendly interface, you can create audio CDs using MP3, OCG, FLAC, WMA, and WAV files. Has integrated audio player in order to play your music files.
Compatible with windows 2000/XP/2003/Vista/Win 7 (x86 / x64)
Download the latest version of CDBURNER XP PRO.
2. Ashampoo Burning Studio FREE:
The free version of Ashampoo Burning studio, supports MP3 and WMA formats only. But this shortfall is made up by its sizeable feature set. This free cd-dvd burning software supports CD, DVD and blue-ray drives giving you flexible storage options.Its user friendly interface gives you access to tasks such as ripping and burning audio/Data CDs, backup files and folders, burn MOVIES.
You can also create ISO/BIN images and also a copier for duplicating CDs, DVDs and Blue-ray discs. It has integrated Audio CD ripper and store your audio tracks as WMA or WAV files.
Download the latest version of ASHAMPOO BURNING STUDIO FREE.
3. BurnAware Free:  
BurnAware is another powerful FREE cd-dvd burning software. It is fast, Lightweight, feature packed and most importantly FREEWARE. This free cd-dvd burning software, can burn all types of CD, DVD and Blue-Ray Discs (Data, Music, and Video). This software supports most popular Windows versions including NT/2000/XP/Vista/Win 7/8 (32 and 64 bit).
4. FinalBurner Free:

FinalBurner a free cd-dvd burning software, enables you to create Data CDs, Audio CDs, Video DVDs and make ISO images. It has a built in CD ripper and is capable of encoding MP3 and WMA files in varying bitrates.FinalBurner supports a wide variety of formats when creating audio CDs. You can import MP3, WMA, OGG, WAV, AAC and also less popular format's like MID. FinalBurner has enough options, to be a good substitute for expensive products like Nero.
Download the latest version of FINALBURNER FREE.
5. Free Audio CD Burner.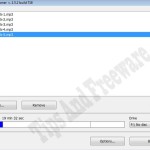 If you are looking for a FREE cd-dvd burning software, to burn your favorite MP3 files to create Audio CDs.Free Audio CD burner,is right for you.Even though this software supports only writing CDs, it can decode MP3 and WMA files in real time.Free Audio CD burner created CD discs to play them in any music player like disc center, Car stereo, CD players etc.
Download the latest version of
Ben Jamir is the Founder and Author of Tipsnfreeware. He is a part time Blogger, sharing his experience and giving a Helping hand to Home users. You will find here the best Windows Tips,Tricks and quality Freeware.