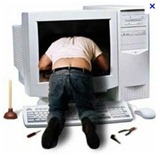 Free Data recovery Software to recover your deleted files from hard disk, memory cards, external USB storage devices.
Data loss can also happen if you unplug your external USB device without using the "Safely remove hardware" feature of windows.
Files when deleted from hard disk or from recycle bin, (USB drive, memory card etc) don't get deleted completely. Its there but not visible to the OS. These can easily be recovered almost completely with these Data recovery software.
Note: The sooner the better. Once files are deleted do not install any other software, do not format for best result and use data recovery software as soon as possible to avoid windows writing over data. This will further ensure proper and full data recovery.
RECUVA is such a tool, a Free data recovery software, that comes to the rescue. Today I would like share the portable version of this FREE software, a wonderful tool that saved my day. You can read a separate post on the Standalone version of this software. 
Recuva Portable, which can be carried on your USB pen drive and can be used on any windows version computer, by just plugging the pen drive and executing the program.
HOW TO USE THE PORTABLE VERSION:
RECUVA portable version is a small application less than 2 MB in size,in zip format. Download it (Link given below) and save it on your hard disk. Plug in your USB pen drive and unzip the content on the pen drive. The application comes in both 32 bit and 64 bit versions.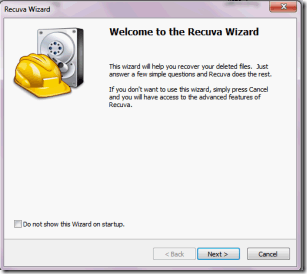 The software does not require to be installed.
Now plugin the external hard Drive or USB flash drive to your computer, from where you want to recover your data.
In windows explorer Open your USB drive (where you have unzipped the Recuva portable earlier) and from there start the appropriate version of the software (32 or 64 bit) and you will see the window shown on the left.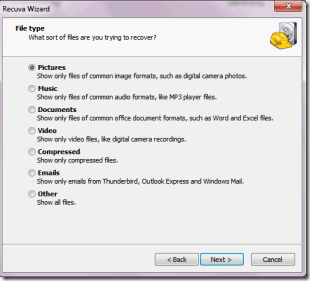 Click on the next button,you will be presented with the option "what kind of file are trying to recover".
Click on the radio button to choose the type of file you want to recover, like Pictures, Music, Documents, Videos, Compressed files, E-mails and others.
Than click on the next button.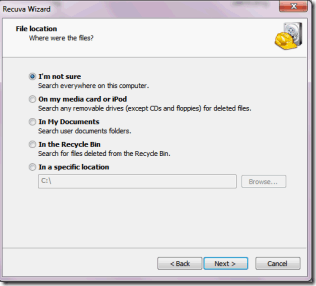 In the next step it will ask for the "File Location, where were the files" The options here is pretty obvious.
You can even browse and specify the drive location if you are recovering data from an external drive or a attached memory card.
Than click on the next button. Recuva is ready to scan and recover your deleted files.
Optionally you can enable for "Deep scan" which takes longer time but does a very thorough scan and recovers almost all files intact.                                                                                        
   Than click on the "Start" button.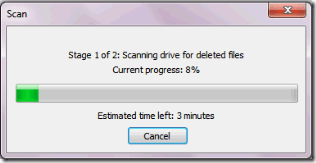 Now you can sit and relax, the program will scan and recover as much as data's that is recoverable.The time taken may range from one hour to a couple of hours depending upon the number of files and also the size of the disk/media you are scanning.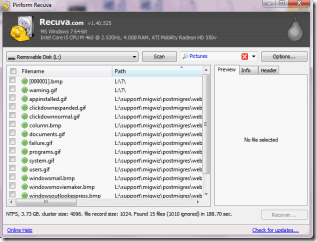 Once completed,the program shows you a list of files found. Files which are intact and in good condition will be marked as a green button.
You will need to put a check mark against files you want to recover and than click on the recover button.
Specify the location where you want to save the recovered files and click on next. Now you just have to wait and let the software do the rest.
NOTE:Do not save the recovered data on the same disk from where you are recovering data.Make a folder on a separate partition and save there. 
Type : Freeware
OS : Windows XP/Vista/Windows 7 (32 bit and 64 bit)
Download the latest version of       RECUVA PORTABLE     
Was this post helpful ? Which free data recovery software for windows, did you try ? Your opinion will be appreciated. Share with a comment.
Ben Jamir is the Founder and Author of Tipsnfreeware. He is a part time Blogger, sharing his experience and giving a Helping hand to Home users. You will find here the best Windows Tips,Tricks and quality Freeware.