Best Free Disk Defragmenter :Smart Defrag
   Best Free Disk Defragmenter, for Windows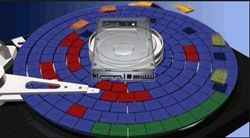 It is known that disk fragmentation is a primary cause of slow and unstable PC performance. This is where defragmenting tools plays a important role. Reducing disk seek time and considerably improving system performance.
There are many paid Disk defragmenting software like, Diskeeper, O&O defrag, Perfect disk etc.
But there are also free disk defragmenter, tools which are as good as any paid versions. So why not go for the freeware which can do the same job (if not better) for free. 
Due to constant read write of data in the hard disk, fragmentation of files takes place. Resulting in slow system response time as it has to seek data of the same file scattered all over the disk.
But we can keep our system running in top Speed by defragmenting at regular intervals. 
SMART DEFRAG2, is a free disk defragmenter tool. Considered as best among the Free Disk defragmenter. 
SMART  DEFRAG2  provides extremely Fast and efficient de fragmentation. Considered as one of the best free defragmenter.
With "install it and forget it" feature, Smart Defrag 2 works automatically and quietly in the background on your PC, keeping your hard disk running at its top speed.
This powerful, award-winning free disk defragmenter is 100% safe and clean with no adware, spyware. The tool has three options for defraging, simple defrag, defrag with fast optimization, defrag with with full optimization.( newer versions may have more options)
Key Features of SMART DEFRAG 2:
1.

  
Boot time Defrag
ensures defragmentation of system files which is normally locked and is inaccessible. Its been specially designed for modern, large hard drives. 
2.

  
Designed for Top Disk Performance
Smart Defrag2 not only provide simple defragmentation. It also streamlines your file system. Places frequently used files and directories into the fastest area of the disk. Making your computer to run at top speed.
3.

 
Automatic Defragment mood
: Smart defrag2 works automatically and quietly in the background. It continually and constantly keeps your computer fragment free. Once installed, you can relax, knowing Smart Defrag 2 is constantly working in the background. Keeps your Hard 
Disk in top shape
Download the best free disk defragmenter tool from below, use it and share your opinion
Posted By: Ben Jamir