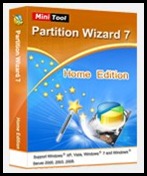 Free Disk Partition software for Windows. Of the many free Disk Partition software, MINITOOL partition wizard, is not only a FREEWARE but is one of the best and stable tool out there. Partitioning a Hard disk is to separate your system files from other files in your hard disk. Hard disk partition helps you to preserve your (User) files, in the event of system crash or re-installing windows.
The biggest advantage is, should anything go wrong with your system files (OS) and you need to re-install windows, all your personal files will remain intact. Since its in a separate partition. You may also want to know other benefits of Disk partitioning described in this post.
So in a nutshell having partition on a Hard disk, is something like, having different hard disks. Since each partition acts as a separate hard disk. Now,why do we need to partition a hard disk. See here the advantages and disadvantages of partitioning. If you at all need to partition your hard,here is a guide as to how many Partition would you really need and how to go about it?
Window's built in Disk management utility options are limited and not very user friendly.That is the reason why a standalone partition manager's are preferred since these dedicated software's are usually equipped with more features and easier to use in general.
WHICH IS THE BEST FREE DISK PARTITION SOFTWARE ?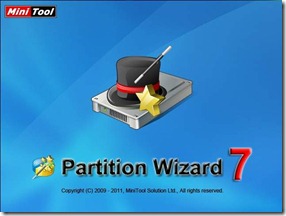 MINITOOL Partition Wizard, is a free disk partition software. Enables you to configure and manage disk partitions on your hard disk. You can easily re size, move, delete or format  selected partitions. Shrinking the size of an existing partition to create a new partition or enlarge a partition to use the adjacent un-allocated space, can all be achieved easily with easy to understand menus.
Minitool Partition has the power and features to accomplish everything you need to be done to your hard disk. In any PC with modest hardware  the results returned fast for most of the tasks. It supports most disk types,including removable storage devices like, external HDD, flash drives and memory cards.
The software's user interface resembles window's, with a familiar blue toned navigation pane and color bar graphs for each disk partition.It shows a detailed display of your system's disks and partition information, including the connected flash drive in a USB port.The feature I liked most is the"Operations pending window" which collects and shows all the selected procedures, which you can review before clicking on the apply button or undo certain procedures if you want to. A notable feature  is the "recovery wizard" which can recover your deleted partitions complete with data.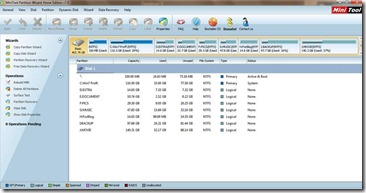 This software also has DATA PROTECTION mode, which you can optionally select when you are modifying your disks and partitions. This feature, the maker of the software say is, as Insurance against corrupting your disk while partition task is running due to power failures and other electrical disturbances.I feel this add-on capability is one which other free disk partition software can't match.
Minitool Partition wizard supports windows 2000/XP/Vista/Windows 7/windows 8 (32 and 64 bit. 
 Minitool Partition manager, has many features to explore, which I leave it up to you to decide. This tool without a doubt is one of the best free disk partition software.
You may also like to read these articles too
1. Advantages and Disadvantages of Disk Partitioning.
2. How to and How many Partitions to Make.
You can download the latest version of Minitool Partition Wizard from the link below


Posted By: Ben Jamir
---
I am Ben Jamir, Founder and Author of this blog Tipsnfreeware. I write about the computers,tested free Software's, Tips, Tricks, Networking, CCTV and Information Technology on this blog. If you like my post /Tips then please like and share with your friends.