There are very few choices when it comes to browsing files in Android device. Fortunately there are quite a few Free File Manager App for Android. ES File Explorer for Android is such a tool and one of the best Free File Manager App for Android devices.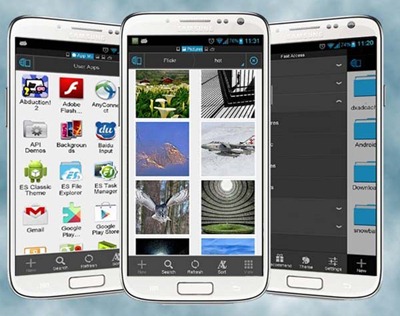 ES File Explorer is a free and Full featured Free File Manager App for Android. Even though it's a completely Free App, I couldn't find something which this App couldn't do. In fact it has features which I never expected to find in a free file manager App. Like samba file sharing, which allows you to share a folder on your computer and access files or even stream video to any player on your phone. This app has a very good user interface which is easy to follow.
This is a feature rich free file manager app for Android, you have to use it to know it.
Important Features of ES File Explorer: Free file manager app for Android:
As File manager: Manage your files like you do on your PC. Use multiple select, cut/copy/paste, move, create, delete, rename, search, share, send, hide, create shortcut and bookmark. These operations can be done on your Android device or remotely on your computer.

As Application manager: Uninstall, Categorize, backup.

As Remote file manager: When enabled, manage files on your phone from your computer.

It has built in ZIP and RAR support, allowing you to compress and decompress ZIP files. You can even create encrypted ZIP files.

Has built in viewers and players, including photos, music and videos.

It can show thumbnails of APK files and images.

Access your home PC via WiFi or SMB.

Bluetooth file browser: You can copy and paste, transfer files between bluetooth ready devices.

Functions as your FTP and WebDAV client.

Supports Dropbox, Box.net, Sugarsync, Google Drive, SkyDrive, Amazon S3, Yandex.

Kill tasks with a single click.

Root Explorer: The ultimate tool for the power users. It provides access to the entire file system and all data directories and ability to change user permissions.

There are many more features and this app is constantly updated

.
CONS: Sorry for the word, if you can call it as "Cons". Some functions of the app aren't built in to the app, for that you need to download the modules for that functions. Some might take it as annoying but I feel it helps to make the App light weight and not bloated. But apart from this ES file explorer is one of the best Free File manager app for Android.

Apart from this, ES file Explorer, as a freeware gets the 5 star grade for its rich features and ease of use. Other Android file manager App which you may like to try out are ASTRO File Manager/Browser and Android File Manager.
Download Page ES File Explorer for Android.
You might be Interested to Read:
1. All in one Android smart phone management tool
2. Top 5 Android Video Player App.
3. Best Android Video Player 2013.
Posted By: Ben Jamir
Ben Jamir is the Founder and Author of Tipsnfreeware. He is a part time Blogger, sharing his experience and giving a Helping hand to Home users. You will find here the best Windows Tips,Tricks and quality Freeware.