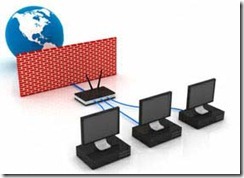 (updated)
 Best Free Firewall Software for Windows, Protect from    external intruders. 
 Every time you connect to the Internet, you are basically    broadcasting your presence to the world wide web. You are  open to attack by hackers and Malware's etc. Protect your Computer with FIREWALL software for windows.
You may want to Know "What is a FIREWALL ? How does a Firewall Work" ?
A Software based Windows Firewall is designed to block any unwanted traffic between computers on a network. Be it in your home network or server connected to the Internet. 
Firewall software monitors all incoming and outgoing connections in real time. Allowing you to surf the web in relative safety. Firewall software for windows allows only those traffic to pass through that you have given the "Go ahead" signal.
So its important that the user must know what to allow and what not to allow.
So the Golden rule is when ever a Firewall software warns you of a certain program trying to connect to the Internet and which requires your nod. Look carefully the programs name and installation log (which a firewall normally will display).
If you don't know the program or not sure than its always safe to block such activity of the program. Your firewall will block that program in the future attempts also. If you find out that it's a legit program, than you can always remove the restrictions from the firewall's settings.
There are quite a few well known FREE firewall software for windows. Like the COMODO firewall, Zone Alarm Free Firewall, Emsisoft Online Armor Free Firewall.
To find the best firewall software for windows, may involve a process of trial and error. A Firewall should Protect and not too much intrusive or too complicated to handle. I agree there are choices to make as to which is best Firewall software for windows. That I leave it up to you, since all users are not same.
But I found this Free "AGNITUM OUTPOST FIREWALL" very effective and a free firewall software for windows.
Agnitum Outpost Firewall is the first firewall with an open architecture and support for plug-ins. So its capabilities can easily be extended by thousands of developers worldwide.
This free Firewall software for windows, gives you  peace of mind from virtually every Internet danger. Unlike other personal (Free) firewall software for windows, this software starts protecting against all kinds of internal and external attacks as soon as it is installed.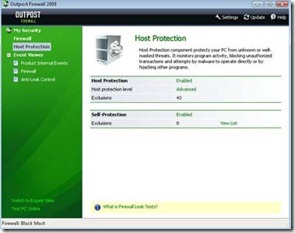 Important Features of Outpost Firewall :
Outpost Firewall is a totally Free product. You essentially download and install and use, no charge and no time limitations either.

Its Better and has more robust solution to Windows firewall.

It has many Advanced features that can surpass even a commercial products.

Proactive protection that defends against unknown malware by controlling installed applications activity.

Usability aid tools that automatically assign correct policies for most widely used applications.

Real time network statistics monitor.

Lets you see network activity in real time, to help define inappropriate connections and close them right away.

Surfing Protection: Maintains your privacy on the internet and keeps browser protected from Internet dangers.
Now if these features are not enough to convince you about its capability, try other Firewall software's too. And share with us
You can download the latest version of AGNITUM OUTPOST FIREWALL.
---
Posted By: Ben Jamir
I am Ben Jamir, Founder and Author of this blog Tipsnfreeware. I write about the computers,tested free Software's, Tips, Tricks, Networking, CCTV and Information Technology on this blog. If you like my post /Tips then please like and share with your friends.