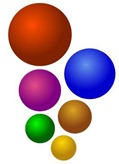 The top 3 best free image viewers to view all type of images on your PC. Windows has its own default Image viewing tool to view lots of image formats. But it does lacks support for some of the lesser popular image formats. With the ability to take Images with various gadgets in different formats, windows many a times fails to read such different image formats. If you have such image formats a lot,(which I'm sure many of us do have) you can use one of these best free image viewers, to view any type of images on your PC.
                          I feel this is one software, which still ranks at the top of all the best free image viewers. This is one of the Longest serving and the most popular freeware image viewer and editor of all times. Irfanview is also packed with many features which others do not have.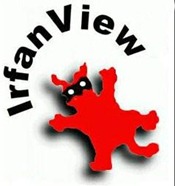 IrfanView is a fast and compact image viewer/converter. Simple for the beginner's and powerful for the professionals. It supports a plethora of image formats, so you can rest assured with this software you can view any image formats in your PC.
After installation, it places two shortcuts on the desktop. One to open the program and the second to view and explore image files (as a file browser) as thumbnails. IrfanView's main program's window is just a plain empty window with a toolbar. But with a very powerful functionality, that can be accessed from its menu tools. The options menu addresses everything from how IrfanView looks, to languages, plugins, and file associations. Talking of Help, IrfanView offers all, any users could ask for, full manual, FAQs, list of keyboard shortcuts and online resources.
You can find a full Tutorial on IrfanView HERE.
Download   IRFANVIEW
2: FastStone Image Viewer: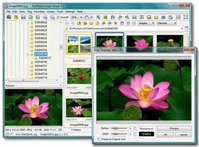 FastStone Image Viewer is another best free image viewers. It has a friendly user interface with a nice array of features like Image viewing, management, comparison, red-eye removal, e-mailing, resizing, cropping, retouching and color adjustments. The programs innovative full screen mode provides quick access to EXIF information, thumbnail browsing and other functionalities. Its tool bar are hidden in full screen mode but pops up when your mouse touches the edges of the screen. Other notable feature of this software includes a high quality magnifier and a musical slide show. With a 150+ transitional effects, drop shadow effects and much more.
The programs default design is quite nice. But if you want to, you can customize it to your liking with several skins.
Other features of this program, includes resizing, cropping, remove re-eye, adjust color, brightness and contrast etc. It also includes simple effects like filters, including Lens, waves, Morphs, multiple folder slide shows, batch cropping etc. FastStone Image viewer can batch convert files in to a number of popular image formats including GIF, BMP, PSD and PNG. The slide show creator allows you to apply transition effect between images and you can add your own MP3 as soundtrack. Remember its basically a FREE image viewer and not a full fledged Image editing tool.
You can find screenshots of FastStone Image here.
Download the latest version of FastStone Image Viewer.
3. Google Picasa:
                  Google's free desktop photo management application. Like all other google product this is another versatile program.  Picasa is a software that helps you instantly find, edit and share all the pictures on your PC.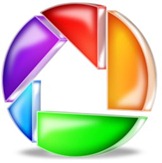 The beauty of this program is, every time you open Picasa, it automatically locates all your pictures in your computer, even the ones you may have forgotten. The program sorts all your pictures in to a visual albums, organizing all your pictures by date and folder names. Which makes it easier to find and locate your picture in the hard drive. You can also drag and drop to arrange your albums and also make labels to create new groups.
The software also has some simple editing tools like, cropping (standard and custom) removal of red-eye, enhancing color, color to black and white. Create slide shows, add MP3 as background music. E-mail photos with Picasa's built-in client. You can also make instant backups to CD or to other hard drives of your photo collections. This program has many other tools and features  you got to use it to know all its features.
You can download the latest version of PICASA IMAGE VIEWER.
There you have the Top 3 Best Free Image Viewers. Its hard to point out which is the best. Which Image viewer do you use ? share your opinion !!!
You may also like to read  "Best Free Image optimizing tool"
Posted By: Ben Jamir
---
Ben Jamir is the Founder and Author of Tipsnfreeware. He is a part time Blogger, sharing his experience and giving a Helping hand to Home users. You will find here the best Windows Tips,Tricks and quality Freeware.