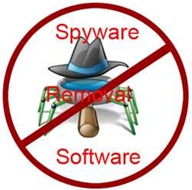 Which is the Best Free Spyware Removal Software ?
There are many types of malicious software being spread around the internet. So it is important to be aware of spyware and malware.
Spyware is basically a general term. Used to describe for software's which performs certain behavior's on your system without your knowledge. For example, Advertising, collecting your personal information's without your consent.
Spyware is sometimes associated with software also. You must have seen them in demo or trial version of software that displays advertisements, called as Adware. These could track your personal and sensitive information's.
Knowing these facts, we must also know that its very difficult to detect the presence of spyware. As spyware's are designed to be difficult to detect and remove from system. Anti virus software are not designed to detect and remove spyware.
Among the free spyware removal software, I have found this to be most effective Free Spyware removal software.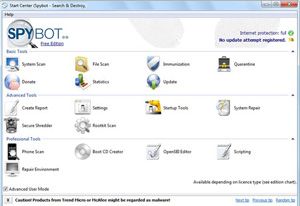 SPYBOT SEARCH & DESTROY:
This is a FREEWARE and highest voted free Spyware removal software by users around the world. Spybot- search and destroy (lets call it as SSD) is a highly effective spyware removal software. It targets adware, malicious code and other threats. It can detect and remove relatively new kind of threat not covered by common anti virus programs. Spybot search and destroy is great in what it does, that is to find and remove spyware and adware.
Immediately after installation Spybot search and destroy, you are given the choice to update. Which is a very important feature. You should update to deal with the latest forms of spyware. I have observed that during the update, the process can sometimes seem to stop for no apparent reason, but it finishes within a few minutes.
The program also prompts you to create a system registry backup– let it , even though the risk is too low. This should not scare you. Just an added safety feature which I have seen in this otherwise very efficient free Spyware removal software. Finally you can immunize your system with spybot search and destroy from ever growing database of malicious processes.
Apart from a regular Antivirus program, A good Firewall software, Spyware removal software is a must for that extra layer of protection for your system.
Which free spyware removal software do you prefer ? share your views with us.
Licence : FREE
Language : English
OS : Windows XP, Windows 7, Windows 8
Download the latest version of Spybot search and destroy.
Posted By: Ben Jamir
Ben Jamir is the Founder and Author of Tipsnfreeware. He is a part time Blogger, sharing his experience and giving a Helping hand to Home users. You will find here the best Windows Tips,Tricks and quality Freeware.