Macrium Reflect, one of the most reliable Free System backup and recovery software for windows. 
After more than three years of using this free system backup and recovery software, Macrium Reflect, on many PCs. I can confidently say this is one software every user should have.
Reliable Free System Backup and Recovery Software:
Disaster can happen to anyone,that too without warning. How well are you prepared for that ? During the course of your usage, you find your system slows down or fails to boot or worse still you see the dreaded BSOD (blue screen of death).
This is a nightmare situation for all us if you didn't Backup your system. What do you do in such a situation? go all over again ? formatting, re installing windows along with all the drivers. Worse of all re-installing all those software's again? 
 Gone are the days when we had to re-install everything. Now there is a very easy solution for such an event, restore your whole system within a few minutes.
if you have been using a free system backup and recovery software.
How to backup with this free system backup and recovery software.
First download and install Macrium Reflect (the free version) on your computer. Download link is given below.
After installation , on-line registration is required which is done automatically within a few seconds once you open the program.
After installation, start the program.
The program interface is quite simple and easy to follow even for a  novice home user.
The first window displays all your partitions.
Back up your primary partition that is the C drive (Default), or any partition. Make an exact image of the C drive/partition and restore windows to exactly the same state as when you created the image.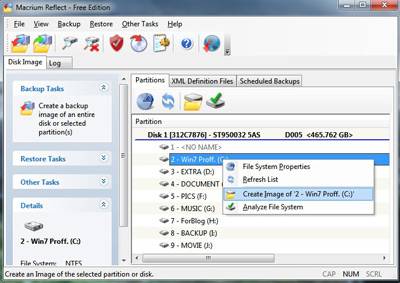 Since windows 7 ,8 and 10 creates a separate partition (about 100MB) size as active partition storing all the boot information. You have to backup the number 2 partition marked as active as shown.
Or you can simply choose the option " Create an image of the partiton(s) required to backup and restore Windows" on the left panel of the programs windows. Macrium reflect will automatically select the partitions required to backup and restore your computer. See image below.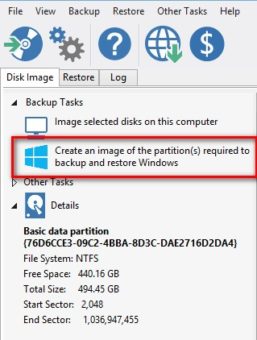 To back up or create an image, right click on the selected partition and click on "Make an image of C" and follow the on screen prompts.To backup an exact copy of windows.
The free version does a decent job of making an exact copy of the C drive or any other partition. Restores the image without a hitch.The only drawback with the free version is you can not make incremental back up.
You can always make a second image after any major changes that you make in your system, like after installing new updates or games etc.
TIP: Never save the backup image in your primary partition, that is the C drive. If for any reason your system crashes or gets infected with virus. Your image file may also get corrupted. Save the image preferably in a separate external hard disk or in a separate partition, or backup on a DVD
Click next, the software takes a snapshot of the system and image file is created and saved.
The Best part is this software takes the snapshot of your system even the active partition live, that is you don't need to reboot for the image to be created.
OPERATING SYSTEMS
Operating Systems Supported:
Windows XP/2003/Vista/Server 2008/7/8/10
SUGGESTIONS:
1. Install everything first, like drivers, software's etc.  before creating an image, so in the event you need to restore, all your installed software will be in place as it was.
2. Never save the image file in your primary partition, save it in a separate partition or better still in a external HDD for safe keeping.
3. MOST IMPORTANT—- From the menu of the main window make a Rescue disk, you will need this disk to boot your System for restoration of your computer from the image file saved earlier. You will require one blank CD for the rescue disk.
I hope this article was helpful.So which free system backup and recovery software do you prefer ? share with us.Have you backed up your system ?
Download the Latest version of Macrium Reflect.
Ben Jamir is the Founder and Author of Tipsnfreeware. He is a part time Blogger, sharing his experience and giving a Helping hand to Home users. You will find here the best Windows Tips,Tricks and quality Freeware.