(updated 12 June 2015)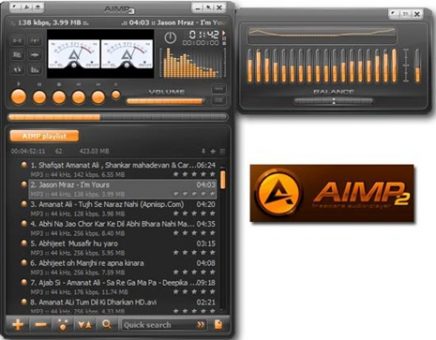 All these years I have been a fan of Winamp media player. WinAmp undoubtedly is  one of the best free Media player around. But recently I came across this beautiful Media player AIMP player. I was really surprised with its great design and beautiful user interface. Music output with its built in 18 band Graphic equalizer was unbelievable.
This post is also for the die hard Winamp fans. Winamp is one player, which has plethora of plugins. Here is another plugin on how to make winamp sound even better.
Talking about AIMP player, well here are its main features, that will make you change your media player (what ever you are using now). One of the best free windows media player.
NOTABLE FEATURES OF AIMP MEDIA PLAYER:
AIMP is a full-featured free music player designed with sound quality and wide,customizable functionality in mind. Over twenty audio formats are supported.This is one of the best music players you can find on the Internet.
Audio is processed in 32-bit for crystal-clear sound.
Support for a large number of music formats:
MP1, MP2, MP3, MPC / MP+, AAC, AC3, Ogg, FLAC,APE, WavPack, Speex, WAV, CDA, WMA, S3M, XM, MOD, IT, MO3, MTM, UMX
Great functionality and intuitive interface:18-band EQ and built-in sound effects
Reverb, Flanger, Chorus, Pitch, Tempo, Echo, Speed
32-bit audio processing
to achieve the best quality

Shutting down the computer




You can sleep under favorite music, setting the timer to switch off the computer.

Online radio Listen and save!

Audio Converter / Grabber:

Allows you to convert music from a variety of formats to wma, mp3, wav, ogg.

You can convert Audio CD (CDA) in MP3, OGG, WAV or WMA

Sound Recorder :


Allows you to write sound from any audio device in your system and save as mp3, ogg, wav and wma files. 

These are just a few notable features, to give you some idea about this beautiful windows media player. This player deserves to be graded as one of the best free windows media player.

Best thing is its completely FREE.


Download the Latest Version of AIMP Media Player.
Ben Jamir is the Founder and Author of Tipsnfreeware. He is a part time Blogger, sharing his experience and giving a Helping hand to Home users. You will find here the best Windows Tips,Tricks and quality Freeware.