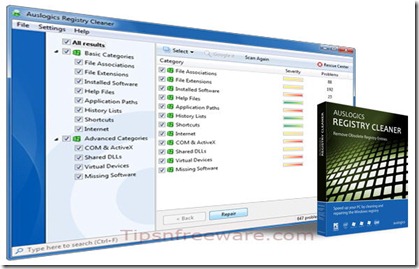 Which is the Best Free Windows Registry Cleaner ?
Choosing the best Free Windows Registry cleaner is a daunting job, considering the number of such software's available. Question is why do we need a registry cleaner ? Is it really that important for system optimization ? Lets find out. 
The Windows Registry is the most accessed and also the most vulnerable component of windows. Responsible for all sorts of errors. Yes I agree all software's have their own uninstallers, but they never do a clean uninstall. Many programs that we uninstall from our system leaves behind a lot of foot prints in the form of registry entries (as orphan file or entries). Its these obsolete and corrupted entries, which can cause system errors, crashes and failures.
That's why its extremely important to keep the Registry in top form. Regular scanning for all the obsolete entries and fixing errors that may accumulate overtime. Standalone free windows Registry cleaner does this job, by deleting all obsolete entries and optimizing the Windows Registry.
BEST FREE WINDOWS REGISTRY CLEANER
Auslogics Registry Cleaner is a Free Windows Registry cleaner, and is considered to be one of the best FREE windows Registry cleaner. Designed for fast and safe Registry optimization. The latest version of this software has improved algorithm. Which detects and fixes various Registry errors and ensures that your computer runs as good as new. The latest version is compatible with Windows 8.
Installation of the software is fast and easy. You don't have to be a advanced computer wizard to use this application. Auslogics default settings are extremely efficient for cleaning up problematic and error filled windows registry entries. There are some options for the advanced users who wants to peek deep in to the windows registry. But this software's default settings for search and repair will suffice most of the time. Besides its advisable not to tweak the registry unless you really know what you are doing.
The scanning and repair process is also very quick. The software also  backs up the files that are being deleted. So should there be an error you can always access those files and restore it. The best part is, this software has a built in restore center. If after any registry cleaning your system behaves erratically (which is unlikely) you have the option to restore the files from the programs rescue center backup.
Auslogics Free windows Registry cleaner makes every step of cleaning and optimizing your windows registry rather simple. This is a must have free windows registry cleaner for every computer owner.
Download the Latest Version of Auslogics Registry Cleaner
So which Windows Registry Cleaner do you use ? Share your views with us.
MORE ON SYSTEM OPTIMIZATION SOFTWARE YOU MAY LIKE:
1. Best Free System Backup and Restore Software.
2. Manage Windows startup programs to boot fast.
3. Best free Data recovery Software for windows.
4. Best Windows Driver update Software FREE
5. Free Hard Drive Health monitoring tool.
6. Best Free Windows system Maintenance Utility.

Posted By: Ben Jamir
I am Ben Jamir, Founder and Author of this blog Tipsnfreeware. I write about the computers,tested free Software's, Tips, Tricks, Networking, CCTV and Information Technology on this blog. If you like my post /Tips then please like and share with your friends.