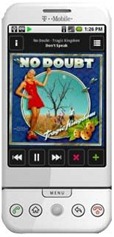 Android Operating system is becoming the most popular OS for smart phones, Tablets, Phablets etc. But lets face it : the stock Music player and organizer (unless you are on Android 4.1 jelly bean) can play your music files, and what else? It can of course do the typical stuff like sort by artist, song name, create playlist, that's all about. This is just OK for basic music playback. What if you want something more than this ? The stock music player for Android is definitely not the best Music player and organizer for Android.
The beauty of Android operating system is that, you can literally use thousands of apps for any purpose you can think of and music is just the most important one, right ? So here is (what we feel) one of the Best Music Player and organizer for Android.
MixZing Music Player and Organizer for Android:
Lets me be straight, without a doubt this is one of the best Music player and organizer for Android. You need a Music player app ? this is it. Easy to use and has tons of features. Don't go by the preview of the start screen of the app which is simple but has almost all the features you will ever need as a Music player and organizer of your music files.
MixZing is simply the most advanced Music player and organizer for Android. Here are some of the Key Features of this Android Music player you will love to explore.
You can browse your music by folder, shuffle all your music and go to your now playing screen.

Displays lyrics for millions of songs.

Graphic equalizer for MP3, AAC/M4A and OCG files. 

Music ID identifies your songs, even those without valid tags and lets you clean up their tags and album art.

Mood Player automatically fills your queue with recommended songs
(like iTunes Genius, but

way better!

)

Passive or active feedback improves your recommendations and automatically builds playlists

Identifies your untagged songs through proprietary audio finger printing technology 

Downloads missing album art and displays it in beautiful detail

Home-screen widgets with album art

Recommends new music to discover

Artist biographies and photos

Automatically saves playlists

Lock screen widget to control player while phone is locked.

Batch playlist editing.
Requirements:
· Android 1.5 or later
Find the music you want to hear now, whether it's already in your collection or available for purchase. Mixzing is the ultimate music discovery solution.
Shortly after you start playing a song MixZing adds recommended songs to your now playing queue.
Tapping the album area makes the advanced controls appear and disappear.
Click Here to Download MixZing.
More on Android Apps You might like to Read:
1. Top 5 Must have Android Apps for everyone.
2. Best Free Manager App for Android.
3. Android Smartphone management Tool FREE
Posted By: Ben Jamir
Ben Jamir is the Founder and Author of Tipsnfreeware. He is a part time Blogger, sharing his experience and giving a Helping hand to Home users. You will find here the best Windows Tips,Tricks and quality Freeware.