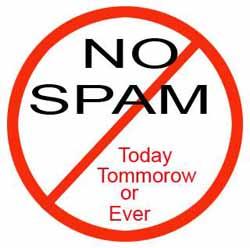 There are plenty of articles written on this topic wordpress Anti spam plugins combinations. I have had my share of spamming on my site Tipsnfreeware and would like to share my first hand experience in dealing with comment spammers.
For some reasons it appears blogs hosted on wordpress are more prone to spamming, specially automated spamming.
So here is a list of two best wordpress Anti spam plugins combination, that I use on my site. And both of these wordpress Anti spam plugins, work in uniquely different ways to stop bots and spammers dead on their tracks. The winning combinations of wordpress Anti spam plugins.
1. G.A.S.P ( GrowMap Anti Spam Plugin):
    It's a very simple wordpress Anti Spam plugin, simple in design too. But a very effective wordpress anti spam plugins specially to defeat automated spambots. This plugin simply adds a client side check box to your comment form asking users to confirm that they are not a spammer.
A commenter simply needs to put a check mark on the box, that's it. Its much simpler and better and easier than using captcha words anti spam plugin.This plugin comes on top of my list as one of the best wordpress Anti Spam Plugins. A screen shot of what this plugin display's on the client side comment form.


2. AKISMET:
       This is another very popular wordpress Anti Spam plugins. This wordpress Anti spam plugins works in a different way. Akismet checks your comments against the Akismet web service to see if they look like spam or not and also lets you review the comment (spam) that it catches.
You can review the comment and unspam a comment if you think it was wrongly graded as spam. There are quite a few options that you can configure on the Akismet plugin settings page. For example how many links a comment can have. By default and safer number is just two links, anything more than that is caught by Akismet as spam.
But Akismet can never be always right. As I found that many of my regular commentators have been flagged as spammers by Akismet. And this is the reason why I use G.A.S.P ( GrowMap Anti Spam Plugin) a winning combination as wordpress Anti Spam plugins.
So these are the two best combination of wordpress Anti Spam plugins, that I use on my site. And believe me, these two works wonder, so I can relax without a doubt that all spams will be caught.
Which wordpress Anti Spam Plugins do you use ? Share your experience with us. 
Ben Jamir is the Founder and Author of Tipsnfreeware. He is a part time Blogger, sharing his experience and giving a Helping hand to Home users. You will find here the best Windows Tips,Tricks and quality Freeware.