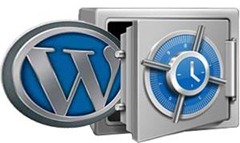 So far the best free WordPress Data base Backup plugin, I have come across.
Do you own a Blog or a web site ? But how safe is your Blog data ? Your years of work may just disappear, before you realize it.
There are number of things that can wipe out your site, like server error, accidental irreversible changes or even be hacked. So its very important to keep a backup copy of all your posts and web pages ?
Today I will be sharing with you a very reliable WordPress backup plugin. This wordpress backup plugin not only keeps an eye on your website but also creates regular backups from time-to-time.(You can even schedule your backup). So should anything go wrong, you can restore your site completely with a few clicks.
BEST WORDPRESSS BACKUP PLUGIN :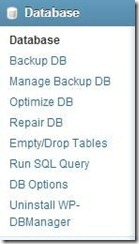 There are quite a few Wordpress backup plugin both free and paid. I am writing about this FREE wordpress backup plugin WP-DBManager. I have been using it for more than four years now. And believe me this plugin saved my five times so far.
A free wordpress backup plugin by Lester Chan, downloaded more than 874,402 times. Speaks volume of its effectiveness and reliability. Considered one of the Best wordpress backup plugin.
Lets discuss the Main features of this plugin WP-DBManager.
Optimize WordPress Database: You can optimize your wordpress data base with WP-DBManager. Clean all post revision data, all spams with a click. It is highly recommended to optimize database at least once a month.

Backup WordPress database : This is the most important and the best feature of this plugin. You can manually backup your database with just one click, and never worry if your website/ Blog breaks down. You can also configure the plugin to automatically backup your database. For example you can set it to backup your database once a week. The plugin also E-mail's the database backup, which you can download and save it locally on your computer. Very convenient.

Repair WordPress Database: At times you may have noticed your homepage not showing a single post. This could happen due to corrupt database.With just one click you can repair your wordpress database. Regular repair of database is important to make your site run smoothly.

Empty/Drop Tables: You can empty or delete database tables. This option can be accessed from the left pane of your dashboard. You can also use the "Run SQL Query tool, to insert, Create, Delete, Replace, Alter or Update query.

DB Options: Here you can change all the settings for the features described above. You can conveniently schedule your database optimization (Monthly). Schedule for database backup, so your database backup is done automatically. Enter your primary E-mail address, so the plugin  mails you the database backup (zipped) reducing the file size. After setting up, you can relax and have peace of mind, as all functions are performed automatically by the plugin.
CONCLUSION:
On overall features and quality I give this wordpress backup plugin 5 out of 5. I've used this plugin for years. Never had any problems. Easy to set up, easy to use. Gives me that all important extra security. It also allows me to do experiments since I can easily backup my database and easily restore it back. To me this is the Best wordpress backup plugin.
Which WordPress backup plugin do you use ?
Download the Latest Version of WP-DBManager wordpress plugin.
Ben Jamir is the Founder and Author of Tipsnfreeware. He is a part time Blogger, sharing his experience and giving a Helping hand to Home users. You will find here the best Windows Tips,Tricks and quality Freeware.