Bluetooth speakers are becoming very popular, for its ease of use and no messy wires dangling from every side of the speakers. But these Bluetooth speakers sometimes causes very weird problems, making you scratch your head, no matter how hard you may try to make it work, it won't respond. Your Laptop or desktop pairs perfectly well with the Bluetooth speakers but when you play any music the speakers don't produce any sound ! dead silent.
I had this problem just yesterday, solved it, sharing with you incase you have faced this problem.
I have a FENDA Bluetooth speakers, paired with my Dell Laptop, and was working perfectly well, until yesterday. After I updated my Audio drivers and rebooted my laptop, it stopped working. My laptop detects the speakers, pairing with the speaker is also smooth, but whenever I play any music, no sound comes from the speakers even though the bluetooth Speakers paired with Laptop ,  but my laptop plays the sound out of its own speakers.
It took me almost the whole day, uninstalling and reinstalling Bluetooth drivers, deleting the device (Bluetooth speakers) adding the device again. Nothing worked, because the problem was something else. To cut it short, if you have faced this same problem, Bluetooth speakers paired with laptop or phone but no sound from the speakers, than follow this simple steps, I'm sure it will work with any type of Bluetooth speakers.
First of all pair your Bluetooth speakers with your laptop, play some music, you are getting the sound from your laptop speakers but not from the Bluetooth speakers.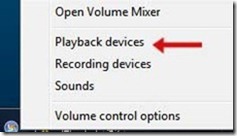 Now on the Task bar right click on the Speaker Icon, from the context menu click on the "Playback Devices"  as shown in this image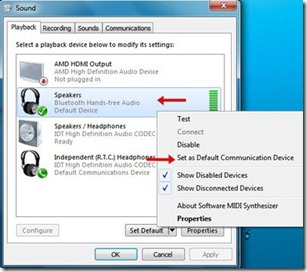 On clicking that you will get this options as shown in this image. Under the Playback Tab right click on the "Speakers Bluetooth Hands free Audio" and from the menu that pops up click on "Set as Default Communication Device". Immediately after that you will hear the music playing from your Bluetooth speakers paired with laptop. Than click on OK to close the window.
Whenever the Bluetooth speakers are disconnected, the laptop uses your "secondary speakers", that is your laptops own speakers. Although you may have a different set of speakers, if you ever face this type of problem, (bluetooth Speakers paired with Laptop, but no sound ) try this I'm sure it will work.
Was this TIP helpful ? did you face this type of weird problem with your Bluetooth speakers ? share with us.
Posted By: Ben Jamir
Ben Jamir is the Founder and Author of Tipsnfreeware. He is a part time Blogger, sharing his experience and giving a Helping hand to Home users. You will find here the best Windows Tips,Tricks and quality Freeware.