TIPS ABOUT VLC PLAYER:
When we talk about VLC media player, the only thing that comes to our mind that it's a Video player. Can't blame anyone for this. VLC is a cross-platform versatile media player that does one thing well : attempts to play just about every format you throw at it.
Here are some cool tips about VLC player you never thought of.
If you are one of those rare user who have not tried it yet. Than I'd urge you to download this player and give it a try. But those of you (Including me) who are already using VLC, you will be surprised to know that there are features in VLC player which you probably didn't  know.
1: RIP AND TRANSCODE VIDEOS:
I Agree there are a number of very good free Video converters. Yes VLC can convert videos from one format to another. Not only that VLC player can be used to rip disc based media's both video and audio, live streams like television, Cable etc.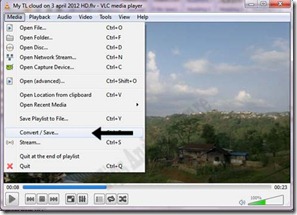 Open VLC player from the top menu click on MEDIA – than Convert/save option, as shown in the screen shot on the left.
You will be presented with a dialogue window allowing you to choose for the file conversion. Here you need to browse for the video file and load it as shown below
Select the folder where you want to save the converted media. At the bottom click on the "Click/save" button and you will be given the option for conversion type, select your choice and click on start. Have patience, trans-coding video is resource intensive task and can take some time.
2: VIDEO EFFECTS: Tips About VLC player:
There are plenty of Video effects in VLC , just for fun and also to spice up your video. All these video effects works in real time when the video is playing.
To access this feature, click on Menu than on "Effects and filters" and you will get all the options, as you can see VLC has plenty of Video effects for fun, try it , all effects works in real time.
You get effects clubbed under the headings under which you will get many other tools, try the effects under these tabs, essential, crop, colors, geometry, overlay, Almolight and advanced features too.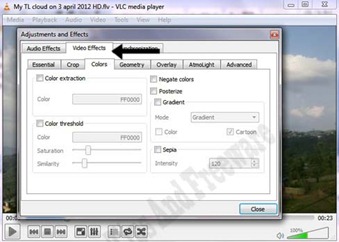 3: TAKE A SNAPSHOT OF YOUR FAVORITE SCENE
To take a snap shot of a scene you can take when the movie is playing. Better still just pause the play than click on "Video" menu, from the drop down menu scroll down and at the bottom click on "Take a snapshot" and save it.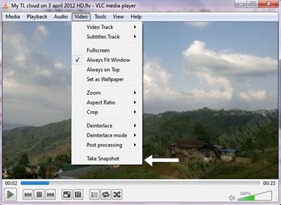 4: Play Your Video as a ASCII Output. Tips about vlc player:
This feature, is just for fun to let you know that what VLC is capable of. VLC can render and play your video in ASCII output format also and that too instantly. You must have seen art made in or photos converted to ASCII text format, very interesting, but have you seen a video in that format ? VLC can do just that.
ASCII stands for "American Standard Code for Information Interchange" And ASCII itself is very basic encoding system that is used for text encoding. Load your Video than go to Tools than "Preferences" and than click on Video. under Output choose "color ASCII art Video output" and than click save.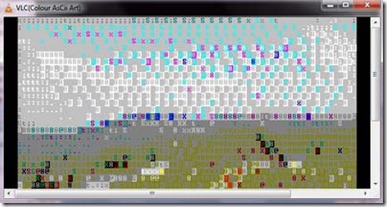 Now play the Video and see the amazing capabilities of VLC. Depending on the video (works better with a head shot videos) enjoy the spectacle moving ASCII art. May be useless but definitely fun! Don't forget to go back set it to default again.
There are quite a few more tip about VLC player. But I felt these are the one worth mentioning. VLC player also play's your Audio files and it has built in graphic equalizer too.
Verdict: This is the best cross platform, multi format versatile media player that will play just about any format.
Download the Latest version of  VLC PLAYER FROM HERE
Ben Jamir is the Founder and Author of Tipsnfreeware. He is a part time Blogger, sharing his experience and giving a Helping hand to Home users. You will find here the best Windows Tips,Tricks and quality Freeware.