Easiest way to create LOGOS for FREE either for your website, Blog or for Personal Use.
This article will show you how to design and create LOGOS For Free online and without any software. You heard it right, this website is so simple, doesn't even ask you to register nor requires your E-mail (Like most of the sites that requires a free registration).
No this is a no nonsense site and straight to the Point. I am talking about SUPALOGO. Just a few clicks and you can create LOGOS FOR FREE made, ready for use in Blog or for your personal use or in anyway you want it.
You can download your logo and save it in you hard disk. You don't know how to use Photoshop or Gimp ? no worry SUPALOGO will do everything for you with just a few clicks and make you create Logos for Free.
OK Let me tell you the procedure : Just go to this PAGE : This Web page opens only with this very simple interface shown below.






On the bottom of this window click on "Options" menu and you will see the following page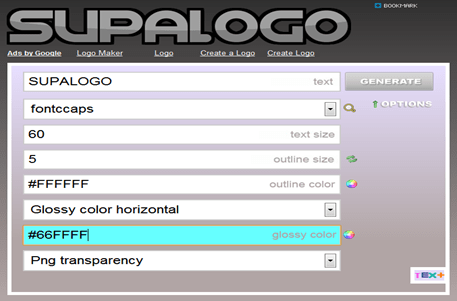 This Window has just 9 options and one Generate button, which are pretty plain to understand and self explanatory, nothing to get confused here.
Even though it may look very minimalist yet there are quite a number of customizations tools available to make your cool LOGO.

On the top row you can write your Logo(word or anything), choose the Font (there are not much choice here) but whatever is there, I feel is more than sufficient.Than you can choose your Font size. If you need to outline your Logo you have the choice of defining how large it should be and also the color of the outline.
The next option is the styling part which is most important and interesting too. Here you get the options for gradient style, glossy style, stripes vertical and horizontal,multicolour etc. You can choose any style and colour combinations and click on the generate button to see a preview of your LOGO.
If you are not satisfied you can redo the whole thing and generate again.When you are satisfied you can download your logo as a transparent PNG or with background PNG.and save it in your PC.
You can further manipulate it in any photo editing software if you want to, but I feel you wont ever need it, the generated LOGO is of high quality.A few examples of generated logo is shown below. If you are creative, you can generate much better LOGOS.
Main Features:
•    No Sign up needed.
•    Free online logo maker
•    Create unlimited logos for free.
•    Create logo with several effects (gradients, multicolor text, glossy, stripes
vertical and horizontal).
•    Several fonts available.
•    Download in .png format with or without background.
•    You can also embed the logo on your site/blog or a forum. Pretty much anywhere.
•    Example logos for Inspiration. You can use them as templates to create your own.
Was this Article helpful? Try your hand making cool Logos for free to use anywhere you want to.Share your vies and experience with us.
Ben Jamir is the Founder and Author of Tipsnfreeware. He is a part time Blogger, sharing his experience and giving a Helping hand to Home users. You will find here the best Windows Tips,Tricks and quality Freeware.