We at TNF wrote an article on the Top three best Disk Partition tools. Where in Minitool Partition wizard a free tool, scored a perfect five star, for its features and ease of use. We also wrote a detail post on Minitool partion wizard, as the best free disk partition tool.
Minitool Solutions Ltd. is a software development company based in Canada, focusing on software development.
MiniTool Power Data Recovery, a Data recovery software, easy-to-use and all in one free file recovery software for home users. It can recover deleted data from the Windows Recycle Bin, restore lost data, even if the partition is formatted or deleted. Restore data from a corrupted hard drive, virus infection, unexpected system shutdown or software failure, and you can not recover your system. Unlike most file recovery tools, it can bring back data after a quick format, not just the shift-deleted items.
Highlights of Minitool Power Data Recovery :
A wizard-like interface makes it extremely easy for any type of user to start a recovery session. At first you are presented the five supported modules. Each one specific for a certain recuperation task. Thus, for reclaiming data that has been purged from the Recycle Bin or accidentally shift-deleted from the hard disk. You have to access one module and a different one for files on lost or formatted partitions.
Preview Recovered Files
Many data recovery applications have problems creating preview images that you can clearly identify. However, Power Data Recovery does not offer a complete image of the files. It does provide a vertical image of the original file name. This was very helpful in our search for specific files.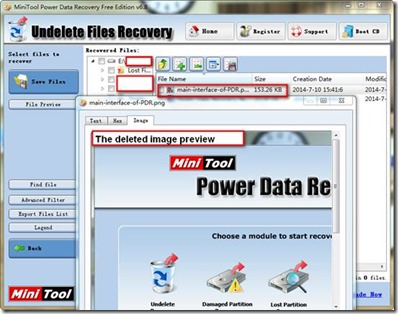 Powerful Tech Support
MiniTool provides one direct technical support option, which is by email. We contacted the company on a Friday afternoon and received an email response within hours, which is excellent. They also post a list of support topics online, and you can contact MiniTool by telephone with sales questions.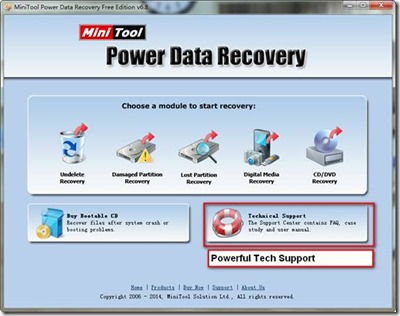 Supported Windows Operating Systems:
Windows 7 (32 & 64 bit)
Windows 8 (32 & 64 bit)
Windows Vista (32 & 64 bit)
Windows XP (32 & 64 bit)
Windows 2000 Professional
Windows Server 2008 (32 & 64 bit) *
Windows Server 2003 (32 & 64 bit) *
Windows 2000 Server Family *
* You need to register your copy of MiniTool Power Data Recovery with a commercial license.
Pros: Supports digital media devices like flash drives, memory cards, Blu-ray Discs, DVDs, or iPods, from which it can recover media files (photos, music and video). Another module in the application, although you may rarely appeal to it, lets you recover data off CDs and DVDs.
Cons: The free edition limited to 1GB of data recovery in total.
MiniTool offers a bootable creation CD; however, it is an additional purchase.
Download the latest version of Minitool Power Data Recovery.
Posted By: Ben Jamir
Ben Jamir is the Founder and Author of Tipsnfreeware. He is a part time Blogger, sharing his experience and giving a Helping hand to Home users. You will find here the best Windows Tips,Tricks and quality Freeware.