Minitool disk Partition Wizard is a tool, which gives you all the advanced options as far as disk management is concerned. A very easy to use tool, which a Home and individual user can easily perform complex hard disk management with ease.
We at TNF (tipsnfreeware) have already reviewed two excellent product from Minitool.
Minitool's Power Data Recovery Tool
Minitool Partition Wizard
Today we review the updated version of Minitool Partition Wizard version 9.0 Another excellent FREE product, an excellent Disk management tool.
Brief Introduction
Almost everyone knows that it is an unwise move to store all data on one partition. Splitting the hard drive into several partitions is no doubt a more suitable way. When you want to re-partition or partition a hard disk, MiniTool Partition Wizard free edition will be right there.
Because of its simple design and well organized interface, partition management can be fulfilled at ease.
This edition is windows based and can support 32/64 bit operating systems (such as Windows XP, Vista, Windows 7 and 8).
Practical Functions of MiniTool Partition Wizard Free
The free edition offers powerful functions on disk partition management to optimize your disk usage. And you can never be afraid of data loss in the process of using the partition software.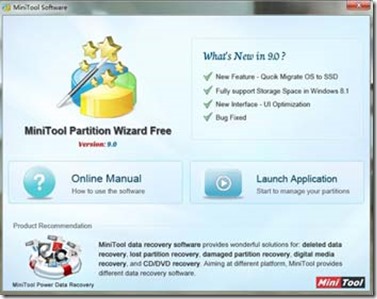 Once launched, the software shows a boot screen in which new features are displayed. Besides, a limited version of MiniTool Power Data Recovery is introduced at the same time. It is the software's partition-related actions that make it outstanding.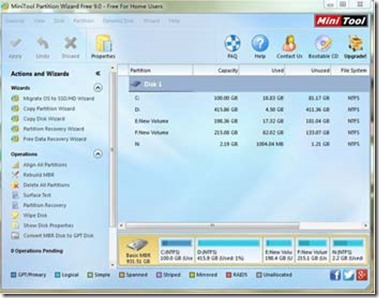 With a click on "Launch Application", you can start to manage your partitions. There are four useful wizards – Migrate OS to SSD/HD Wizard, Copy Partition Wizard, Copy Disk Wizard.
Partition Recovery Wizard – ("Migrate OS to SSD/HD Wizard" is a new that can largely accelerate both computer running and data read write speed.) and a number of other functions listed in its main interface. All of them are clearly presented for you.
The partition magic's interface performs your local disks in a list. Various details (like capacity, free and used space, and file system and so on) are attached with them. On the left panel, options for moving/ resizing partitions or running other operations are made available.
All operations can be performed without difficulty. The best part is, MiniTool Partition Wizard free edition allows you to preview the settings that you selected before executing them. So you can always review before you actually perform the changes.
Bonus : You can also make a free bootable CD – which permits you to manage your hard disk when the OS is unable to boot or even control partitions on a computer which has no Operating System.
However some specified features (like Resize/Move Dynamic Volume, Create/Delete/Format Dynamic Volume, Merge Partition, etc.) are not available in the free edition. For such advanced features you should upgrade it into any other advanced editions.You can find the comparisons of different versions here.
(http://www.partitionwizard.com/comparison.html).
VERDICT: Overall Minitool Disk Partition Wizard FREE ver.9.0, can do the most common users' demands for disk and partition management most of the time. I don't think you will ever need the paid version.
Download Minitool Partition Wizard Version 9.0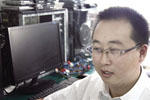 This article is Contributed by::TINA OF MINITOOL::.You can Contact Them for any further information at this mail add.

[email protected]
Ben Jamir is the Founder and Author of Tipsnfreeware. He is a part time Blogger, sharing his experience and giving a Helping hand to Home users. You will find here the best Windows Tips,Tricks and quality Freeware.