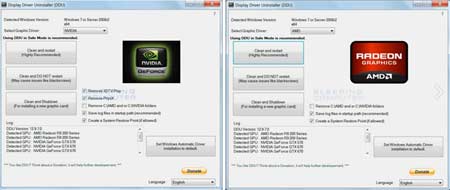 Display Driver Uninstaller is a driver removal utility that can help you completely remove AMD/NVIDIA/INTEL graphics card drivers and packages from your system
Although Windows can uninstall AMD / NVIDIA drivers, yet most of the time windows donot uninstall completely. Specially the registry entries and the folders created by the installation.
This may cause problems and conflict if you try to re-install a older or newer version of the driver.
Driver conflict is the most important cause of system instability and BSODs. Display Driver Uninstaller completely remove AMD/NVIDIA graphics card drivers and packages from your system. Without leaving left overs behind (including registry keys,folders and files, and the driver store).
This driver uninstaller program was designed to be used in cases where the standard driver uninstall fails. Or whenever you need to thoroughly delete NVIDIA and ATI video card display drivers.
This Driver Uninstaller will remove everything from your system. Your new driver installation will be like a fresh windows installation.
This device driver uninstaller tool acts similar like any other driver cleaner programs do, but it has the added advantage that it cleans everything including registry keys,folders and files. So you will not face any driver conflict issues, as most of the time we face with AMD/NVIDIA/INTEL drivers. 
As with any tool of this kind, we recommend creating a new system restore point before using it, so that you can revert your system at any time if you run into problems. 
License : FREE
Supporting OS : Windows XP / Vista / 7 /8 : 32 bit but can run on both 32=bit and 64-bit
File size : 1.59 MB
Ben Jamir is the Founder and Author of Tipsnfreeware. He is a part time Blogger, sharing his experience and giving a Helping hand to Home users. You will find here the best Windows Tips,Tricks and quality Freeware.