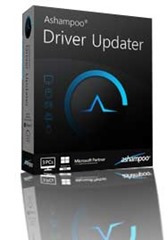 Update all drivers on your PC with one click to prevent device conflicts and ensure smooth hardware operation. Driver update software scans your computer for outdated drivers and helps you download and install the latest versions, so as to keep your computer functioning at top performance
Ashampoo Driver Updater is one such applications that enable you to scan your computer for outdated drivers and download the latest packages.
You Might as well Know:
Outdated drivers can have a negative impact on your computer's performance. Can cause graphics and sound-related issues. Keeping system drivers up-to-date is important. Hardware manufacturers releases updated versions, and are designed to prevent crashes and ensure that all the hardware components are working properly.
Driver Update Software : Ashampoo Driver Updater:
Ashampoo Driver updater scans your PC for outdated drivers and allows you to update them.
Once launched, Ashampoo Driver Update software instantly starts scanning your computer. The search results are shown as pie chart. The chart shows you how many drivers are up-to-date and how many aren't.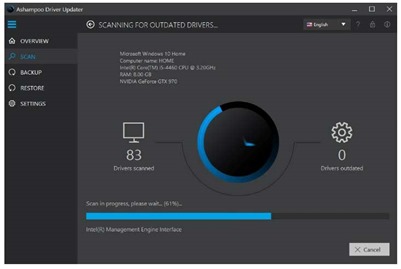 You can click on the 'Overview' section to view a list of all the drivers Ashampoo Driver Updater found on your computer, whether they are up-dare or not.
For each entry the driver update software shows, you can compare the version installed,with the newer one, and decide whether to update or not.
Batch Download updates and creates backups
Once you have selected the desired drivers from the list, you can download all the updates in batch. It's a good practice to create a restore point before applying the changes, specially with device drivers. Fortunately this is an option that is enabled by default in Ashampoo Driver Updater.
Another security measures this driver update software gives, is allowing you to create backups of installed drivers, so as to restore them quickly, should you require that.
By default, Ashampoo Driver Update software is configured to check all the drivers. But you can also add exceptions, which will be excluded from future scans.
Schedule your Driver Update from time to time:
Ashampoo Driver Update software also features an integrated scheduler, which can help you to keep your drivers up to date.
Give your PC a boost with Driver Update software Ashampoo Driver updater. A utility tool to ensure your system drivers are up-to-date, always!
Enjoy a faster PC speed and system stability with the latest drivers on your system and attached devices.
Download Ashampoo Driver Updater
I am Ben Jamir, Founder and Author of this blog Tipsnfreeware. I write about the computers,tested free Software's, Tips, Tricks, Networking, CCTV and Information Technology on this blog. If you like my post /Tips then please like and share with your friends.