Every Computer user knows, how it feels when a file is lost, either due to a system crash or because you used the Shift + Delete keyboard tabs after selecting a collection of files.
But all is not lost. In this post we are going to introduce the free file recovery program MiniTool Power Data Recovery Free Edition.
TNF has already published a review on Minitool Power Data Recovery Version 6.8. This is the latest version with enhanced feaures.
Features that make Minitool Power Data Recovery Free Edition outstanding: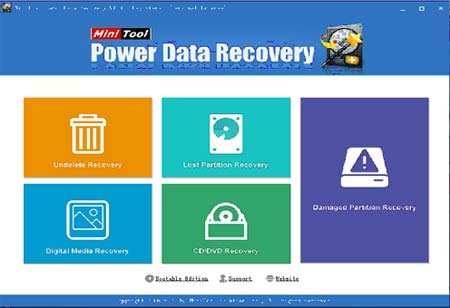 Features of MiniTool power data recovery 7.0

Undelete Recovery
MiniTool Power Data Recovery is regarded as one of the best undelete recovery software. It has many advantages, such as high recovery rate, easy undelete file recovery operations and good compatibility. It supports FAT12, FAT16, FAT32, VFAT, NTFS and NTFS file systems and almost all common Windows operating systems. It allows users to undelete deleted files from not only hard disk, but also flash drive, memory stick, memory card and flash card. Its free edition can help users recover 1GB data without paying even a cent.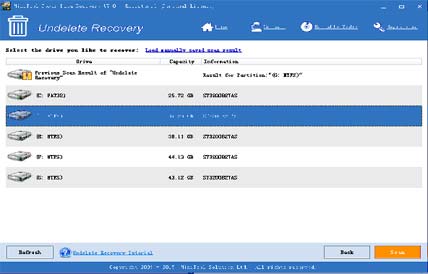 Lost Partition Recovery
Lost Partition Recovery module provided by MiniTool Power Data Recovery is designed to recover data from lost/deleted partition. Both local hard disks and removable devices. In general, if you cannot find the partition, by using Damaged Partition Recovery module. You can try using Lost Partition Recovery module.
Choose this module and you need to select the device you like to recover data from, and then choose a scanning button.
Damaged Partition Recovery
Damaged Partition Recovery module is the most powerful data recovery module of MiniTool Power Data Recovery. It is designed to recover data from logically damaged, formatted and RAW partition. Lost files can be recovered by using this module as long as the partition exists. And also, it could give you more chance to recover lost/deleted files when Undelete Recovery is not working. Moreover, it recovers data not only from hard disk partition but also from memory stick, memory card, flash drive, and so on.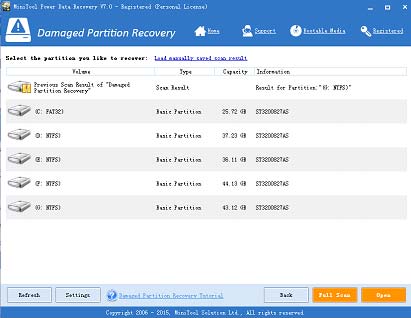 Damaged Partition Recovery module supports MBR-style and GPT-style partition as well as Windows dynamic volumes including Simple Volume, Spanned Volume, Mirrored Volume, Striped Volume and RAID-5 volume.
Digital Media Recovery
You should try this data recovery module first when you like to recover photo, music and video files from these digital media devices. No matter if your memory card is formatted or the files is deleted. This data recovery module should be your first choice.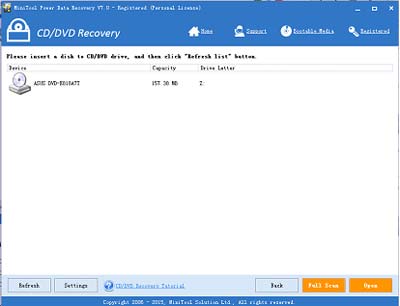 CD/DVD Recovery
CD/DVD Recovery module is the most easy-to-use CD/DVD data recovery tool.This data recovery module is designed to recover data from CD & DVD disk. It is designed specifically to recover lost and deleted files from damaged, scratched or defective CD and DVD disks.
This data recovery module can recover files recorded by common CD/DVD writing software. It supports to recover data from all CD and DVD disc types (CD-ROM, CD-R, CD-RW, DVD-ROM, DVD-R, and DVD-RW), and from quick formatted RW discs. It also supports disc recorded with UDF packet writing software: DirectCD, InCD, packetCD.
New features and supports of Minitool Power Data Recovery Software:
1: New User Interface
2: Main features are listed on the main interface clearly with dynamic icon.
3: New scanner, Speed Faster
4: By using the new technology of scanner, the efficiency in scanning a large database is increased 50%. Spend less time to recover more files.
5: Windows 8.1/Win 10 Support. Minitool data recovery tool works on all Windows versions since Windows 95, up to Windows 10, 32-bit and 64-bit.
Download the Latest Version of Minitool Power Recovery Software.
Ben Jamir is the Founder and Author of Tipsnfreeware. He is a part time Blogger, sharing his experience and giving a Helping hand to Home users. You will find here the best Windows Tips,Tricks and quality Freeware.