We all heard that, Windows 10 will see the return of the Start menu we are used to. Windows 10 is out, but the start menu is not quite the start menu you were used to from Windows 7 below.
In fact some say its better, some say its a mixture of windows 7 and windows 8. The start menu in Windows 10 is a blend of the good old menu of windows 7 and Windows 8. Something which could be useful equally to desktop and tablet users.
Lets be frank, the start menu in windows 8, was a disaster, both in terms of usability and user acceptance. There was a wide dissatisfaction among users about windows 8 start screen, which was more of a mess and confusing for the users.Even though there are ways to get the start menu back in windows 8.
Windows 10, on the other hand tried its best to fix these issues. But ended up giving the users a mixture of Windows 7 and Windows 8 start screen features.
Though getting to know and understand the new windows 10 start menu is easy. You also get the added feature of re sizing the Windows 10 start menu by simply grabbing the top or right edges and dragging it to suit your taste.
But for those of us die hard fans of the old Windows start menu, we so are so used to, here is a software which adds a Windows 7 styled start menu with Windows 10 enhancements.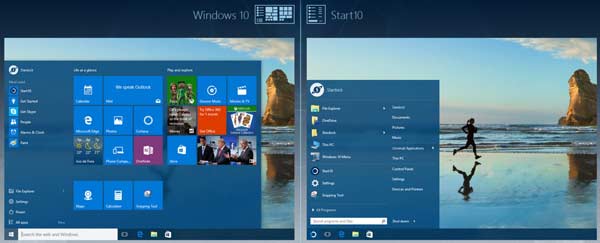 Start Menu Comparison                   
Features of Start10, the First Windows 10 Start menu Alternative:
1: Windows 7 styled start menu with Windows 10 enhancements.
2: Pin desktop and Modern apps to the start menu
3: Jump list support.
4: Unified search for apps, settings and files.
5: Automatically matches the color of your task bar.
6: Skinnable start button.
7: Search menu is back in the start menu.
8: Maintains the "All programs" folder metaphor….and many more.
Download Start10 the first Windows 10 Menu Alternative.
Ben Jamir is the Founder and Author of Tipsnfreeware. He is a part time Blogger, sharing his experience and giving a Helping hand to Home users. You will find here the best Windows Tips,Tricks and quality Freeware.