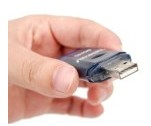 " When I click on USB thumb drive in windows explorer, windows explorer opens a short cut of the USB thumb drive. And when I click on the USB thumb drive short cut icon,windows displays the message "The specified module could not be found". I can not access the files in my USB thumb drive, even though windows shows the correct size and available free space in the USB thumb drive"
I am sure many of us has faced this Pendrive Shortcut Problem , error in reading the content of the USB thumb drive. Windows just can not read any content of the USB thumb drive.
This is a problem with the file structure. Most likely your USB thumb drive was hit by a virus. Your anti virus must have detected the virus and either isolated it or deleted. Resulting in problem with file structure of the USB thumb drive.
Follow this step to solve Pendrive Shortcut Problem:
Insert the USB thumb drive on the PC and scan for any virus.

Open windows explorer (open my computer) and note down the USB drive letter.

Go to start>Run> type CMD in the field.

Open Command prompt as Administrator.

In the command prompt window type the following line
                       attrib -h -r -s M:*.* /s /d   
Note: M should be replaced by your USB drive letter. Press enter. Wait for a few seconds.

In most cases the above command works. But just in case it doesn't solve your problem you can try the following command.
  attrib -h -r -s /s /d M:\*.*      ( M stands for the drive letter for your pendrive)
Now open My computer and check your Pendrive. It should open, it may contain the shortcut for the USB thumb drive and also a few folders. Check the folder if all your files are intact, you can delete the shortcut icon. 
TIP: Copy your files save it on Desktop and format the pendrive, to be on the safer side.           
Ben Jamir is the Founder and Author of Tipsnfreeware. He is a part time Blogger, sharing his experience and giving a Helping hand to Home users. You will find here the best Windows Tips,Tricks and quality Freeware.