Have you been having troubles with your computer / laptop ? Slow to start and responding slowly to clicks. Freezing suddenly not responding to any commands.
It happens, over the months and years of usage, your computer may get slow and sluggish. Most of the time its not due to hard ware failure, but due to accumulation of junk files, invalid registry entries of software that you uninstalled. All these chokes the system, making it slow.
Fortunately we have tools just for this, to fix slow computer and improve performance. There are quite a few tools both paid and free, out there to fix slow computer and improve performance.
But we at TNF, we do the research and give you the best FREEWARE, to do the same job as a paid one.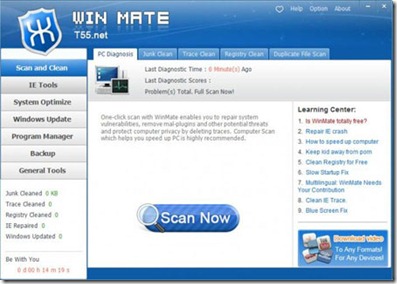 Winmate, is such a tool. A freeware which scans your computer, finds and fixes all errors with just a click. This tool scans your PC and gives you solutions that you can trust. This is a Top-rated tool, which you can use confidently to clean system errors to reduce computer crashes.
Here are some Key features of Winmate:
Need to

speed up your computer

? winmate provides you with not one but four classical and proven effective methods to perfect your computer with only a few clicks.

Safely scan registry and repair for any error. Finds and deletes all obsolete registry entries left behind by uninstalled programs.

Scans and fixes your windows system errors, protecting your windows from crashing, freezing.

Additionally Wimate checks your Hard disk to find fragments which may prevent your computer from running smoothly.. It

defragments hard disk

to rearrange contents on your hard disk to fix slow computers.

Last but not the least. winmate has a Memory tweak utility which recovers memory to free it up, speeding up PC in real time.
There are many more useful features of this very useful tool. All you have to do is to download this FREEWARE and explore it. The very basic usage is enough to fix slow computer and improve performance for free. One use and you will see the difference.
You can download the Latest Version of Winmate Here.
Posted By: Ben Jamir
Ben Jamir is the Founder and Author of Tipsnfreeware. He is a part time Blogger, sharing his experience and giving a Helping hand to Home users. You will find here the best Windows Tips,Tricks and quality Freeware.