In Windows 8.1 whenever I tried to open MS word, whether blank or a word document, MS word displays the notification which says "The function you are attempting to run contains macros or content that requires macro language support….." this notice goes on and on  long description, as shown in the image below.

After clicking on the  "OK" button several times only, the notification closes. Than only I could use Word.
I have recently upgraded my Laptop Hard disk with SSD and installed Windows 8.1. Could this be the issue ?
No ! because I have a second Laptop with Windows 8.1, where MS word is running fine with no such issue.
If you are facing this issue here is the simple fix.
How to Fix: The Function You Are Attempting to run contains……..in MS Word
1: Open Microsoft Word. Let the Notification be there. Don't try to close it.
2: Now click on the round ball at the top left of MS Word, to open the "Word Option".
3: In the Menu click on " Trust Center" in the Left panel. As shown in the image below.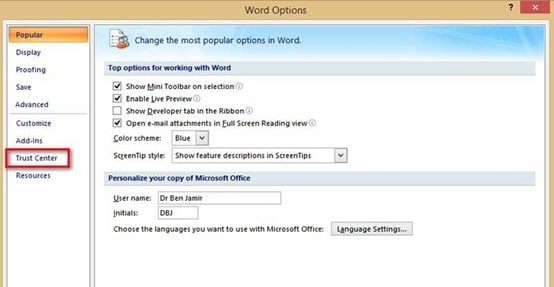 4: Under "Trust Center" click on the "Trust Center Settings".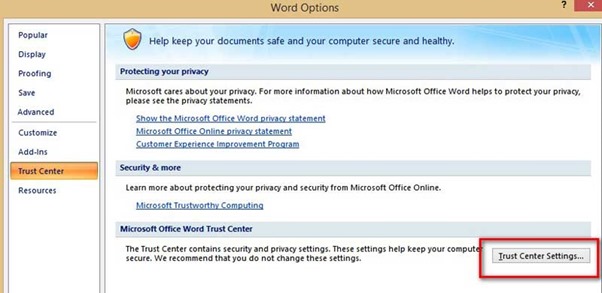 5: This will open the Trust Center Settings. As shown below image


6: In this window on the left click to select "Add ins" as shown in the image above.
7: Under the Add ins options on the right, put a check mark (select) that says..
" Disable all Application Add-ins". It also say's "(may impair functionality)". Don't worry about that.
Nothing gets impaired, everything works as it should. But the nagging notification "The Function You Are Attempting to run contains" is gone and fixed.
Now try to open MS Word..it works. This fix should work with Windows 7, 8 or 10.
Ben Jamir is the Founder and Author of Tipsnfreeware. He is a part time Blogger, sharing his experience and giving a Helping hand to Home users. You will find here the best Windows Tips,Tricks and quality Freeware.