Just yesterday I had this very unpleasant experience. While doing some Google search, I got this message in Google chrome browser
" Our systems have detected unusual traffic from your computer network. This page checks to see if it's really you sending the requests, and not a robot"
And than it shows a captcha " To continue, please type the characters below"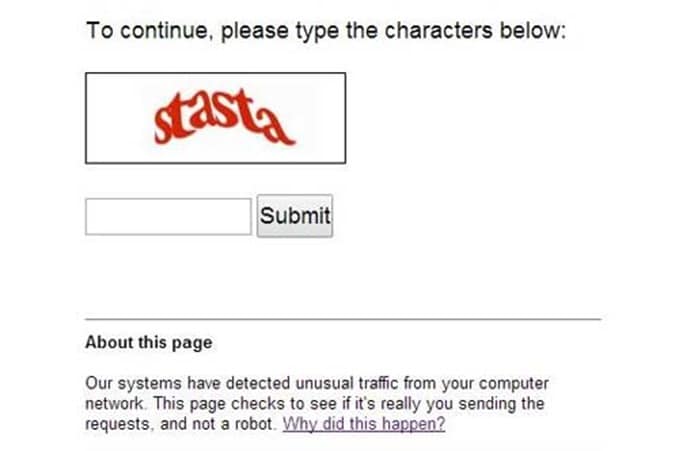 This happened with Google chrome browser, I have no idea if this happens with other browsers. It came as a shock to me, obviously since all I was doing was searching in chrome. I am sure my system is free from any virus, spyware or malware infections.
So than why this message? After a lot of discussions with my fellow bloggers, I could fix this issue.
What is causing this message to be displayed?
This page/message appears when Google automatically detects requests coming from your computer network. So your search is temporarily blocked for sometime, and expires after these requests stops. If you cant wait, you can just type the captcha and continue your search.
There are number of reasons which can cause this issue:
1: As the warning says your system could be sending Google an abnormal amount of requests that would not be possible for a single user: possible reasons for this….
2: Your computer is infected with a virus that's making the requests in the background that you are not aware of.
3: A Add-on or extension that you may have installed recently, sending lot of requests. This is generally seen with SEO extensions of Google Chrome. Here is a list of best Google Chrome SEO plugins. If you have those installed, disable them when not required.
4: Your Internet service provider (ISP) may have placed you and other users on the same external IP. This may appear to Google that all traffic is being generated by one user.
Google does gives you a number of reasons why this message appears, and also shows your IP address. This confuses a user more than solving the issue at hand.
So, How to fix this issue: Lets go systematically, one by one.
1: If it's a Virus causing this unusual traffic request. I suggest install a good antivirus. Here is a list of Top 3 best free Antivirus. Do a complete scan of your computer. If it finds any virus, malware Spyware and removes it, than you are good to go.
2: If you have recently installed any browser extensions or add-on, disable it. Also disable all SEO related extensions, these extensions make a lot of requests to gather information. Making Google to suspect it's a robot. Here is a List of Top 5 SEO extensions for Chrome. If you are using one of these try disabling them and see.
3: If these steps fails, contact your ISP provider, tell them about this issue and how they assign IP addresses. If its from their end they can help you out.
With these steps I am sure you can fix this "Our Systems Have Detected Unusual Traffic From Your Computer" issue. Its harmless but annoying and not really difficult to fix.
Bonus TIP: If you have the habit of searching too quickly (like I do) this apparently triggers this issue. So the Captcha keeps coming back in a few minutes again.
Reason : Google says certain search terms are used often by robots and that some search terms are searched for faster than the average user and that triggers the mechanism to show the message "Our Systems Have Detected Unusual Traffic From Your Computer "
Hope this fix helps..any more idea ? please share.
Ben Jamir is the Founder and Author of Tipsnfreeware. He is a part time Blogger, sharing his experience and giving a Helping hand to Home users. You will find here the best Windows Tips,Tricks and quality Freeware.