Free Audio and Video Joiner software, 
Join your audio files and Video files to make it in to one continuous file.

(updated 22 Nov 2015)
Free Audio Video Joiner tool. A versatile that that joins parts of the same video or Audio files. Making it a continuous file.
This happens, when you download YouTube videos having several parts. For example video serials. You downloaded in parts and want to make it in to one continuous movie file. Here is a free tool, Audio video joiner to join them together and single movie file.Audio files too.
This software MEDIA JOIN is a free software that will allow you to join all popular video and audio formats.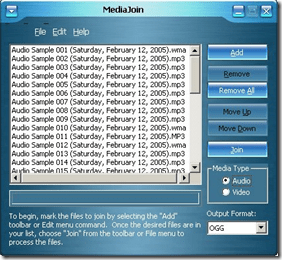 uo
MediaJoin is a software with which you can easily join (combine) all popular audio and video formats in to a single merged file. A free audio and video joiner.
MediaJoin supports the following file formats MP3,WMA,WAV,OGG,AVI,MPEG-1,MPEG-2 and WMV. Optionally it also includes audio Tag information for combined output audio files.
This excellent software supports more formats than any other video joiner you may have used earlier.In fact this is the only complete all-in-one solution for joining audio and video files.
The process of joining several parts of the  same video files is not easy and requires special software and also skills. MEDIA JOIN is a completely free audio and video joiner, and does the job exceptionally well.
Download this software and join all your parts of your audio or video files in a snap.
Ben Jamir is the Founder and Author of Tipsnfreeware. He is a part time Blogger, sharing his experience and giving a Helping hand to Home users. You will find here the best Windows Tips,Tricks and quality Freeware.