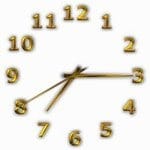 Personally I have always felt that analogue clocks have a certain charm and beauty of its own that digital time-telling just can't compare with.
So here is a Free Desktop Analogue Clock "The Aero Clock". Very simple yet very beautiful Desktop analogue clock with alpha transparency.This beautiful free Desktop Analogue clock enhances your desktop looks, showing the local time on your desktop screen.

Lets check some of the Features of this Free Desktop Analogue Clock:
1. The Aero Clock is completely transparent. Which means you can easily control its transparency with a slider as per your liking.
2. Size: You can change its size with the mouse as you like. Increase it to fill up your desktop, without any change in its quality. Or just size it to fit in one corner of your desktop.
3. The Settings Options:

Size : Change the size with the slider. Smallest size 64 to the largest size of 1024.

Transparency: Use the transparency slider to adjust the clock's opacity, from 0% to 90%

Image/ Textures: There are more than 25 different textures (clock face images) that you can use to match your desktop wall paper.

Always on top: You can check this option keep the clock on top of window, so you can always see the time.

Second-hand pointer: You can switch on or off the second's hand of the clock.

Fixed at that position: Check this box to keep the clock fixed at the position where you want it to be.

You can also enable it to start it with windows.

Center of the screen: click on this tab and you can center the clock on your desktop.
The best Part, this free desktop analogue clock, doesn't need to be installed. Its in Zip format, download it , unzip it, and just run the application.
Download Aero Clock Free Desktop Analogue Clock 
Posted By: Ben Jamir
Ben Jamir is the Founder and Author of Tipsnfreeware. He is a part time Blogger, sharing his experience and giving a Helping hand to Home users. You will find here the best Windows Tips,Tricks and quality Freeware.