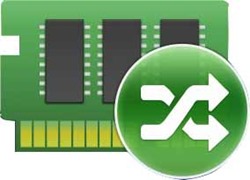 How to Improve Gaming performance of your PC without a dedicated Graphic card.
Modern Computer's and laptops comes with integrated powerful graphic card.
But no matter how powerful your PC or Laptop may be, you must have observed, your system refuses to play the game. You get the worst frame rates and your system becomes sluggish and unresponsive.
Wait a minute, don't blame the vendor, or don't doubt the system's configurations. Everything's OK, its just that your system is busy doing something else in the background. So it just can not give you the full power to let you play the game.
Free PC Optimizer Software to Improve Gaming Performance
Basic things you need to do regularly to keep your system performance optimized. Don't take it lightly, its very important.
1. I'm sure you too like all of us, install and uninstall software's. Many software don't completely uninstall, use a proper uninstaller.
2. Many software's that you install, get itself listed in the start up list when windows starts. Which you may not need at all. This uses your precious memory and resources. Check which programs are in the start up list and disable them. You will see a noticeable difference in your system's performance.
3: Many Home users just have no idea how many unknown applications runs in the background. These takes up your computers physical memory. Check which applications starts up with windows and disable them, with this free tool.
Here comes the main point for this post. You need a dedicated software, that checks all these and free up physical memory and boosts up your systems performance, a free PC optimizer software.
The idea ? so your system gets more power to play that game smoothly.
Wise Memory optimizer is a Free PC optimizer software. Anybody who can use a computer can run this tool, to free up memory and improve gaming performance.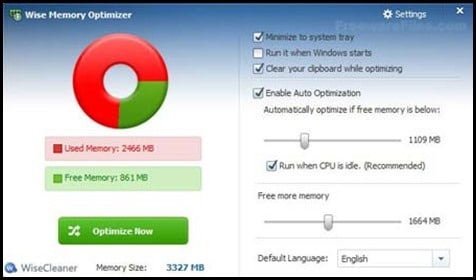 Image Source
Main Features:
1: Automatic tune-up and optimization of RAM. This it does when PC memory goes below a set value.
2: Displays memory status in real time as a dynamic pie chart.
3: It has the ability to free up RAM as much as possible.
4: Best part its compatible with all versions of windows.
5: Its Free.
How to use this Free PC optimizer Software:
Download it from the link below. Its in zip format. Unzip it in a folder. This tool does not need any installation. Click on the executable file to run the program.
It will show small window, with information's like, Memory size, used up memory in red, free memory in green. There is also a "Optimize" button prominently placed. Clicking on it takes a few seconds to free up memory, displaying amount of memory freed. This will give a immediate boost and improve gaming performance.
You can customize the tool from the settings. Like automatically start with windows, enable auto optimization. or run when the CPU is idle. When minimized the tool sits in the system tray. It will display current memory usage when you point the mouse in the tray.
The best thing we liked is its portable, which means you can carry it on a USB stick and use it in any computer to optimize memory. No risk, as it does not make any changes in windows registry.
Simple and effective free PC optimizer software. If you want to boost PC speed, improve gaming performance without a graphic card. Give this tool a try. No harm.
Download the latest version of Wise Memory Optimizer.
Ben Jamir is the Founder and Author of Tipsnfreeware. He is a part time Blogger, sharing his experience and giving a Helping hand to Home users. You will find here the best Windows Tips,Tricks and quality Freeware.