Free system backup and restore software for windows. Backing up your files and folders is a great way to minimize losses.
But what abour Backup your operating system "C" drive or the whole hard disk. And restore your data with a few mouse clicks, if your PC crashes due to any reason?
AOMEI BACKUPPER one of world's most popular windows System backup and restore software with the most easy to follow user interface for the Home users. It is a professional yet a free system backup and restore software. 
It has the ability to take a snapshot of your active partition and saves it as a compressed Image file. And restore your system at a later date, to the same state when you took the snapshot.
Main Features of Aomei Backupper:
UPDATE: 10th. May 2014: Aomei Backupper Version 2.0 has been released with bug fixes and more features. 
1: System Backup: Unlike the earlier versions of Windows like windows XP. Windows 7 and 8 creates two partitions for the operating system. The Boot partition which contains the boot information's and the Active partition. which contains the operating system. Aomei Backupper can back up all data of system drive, including system files and installed applications without interrupting your work.
Which means you can carry on with your work while the software takes the exact snapshot of your system in the background. Saves the image file, the Image file is compressed to save disk space. For advanced users there is also the function for Incremental Backup and differential backup. 
 2: Disk Backup: Aomei Backupper can Backup your entire hard disk drives including  external hard drive, USB disk, and other storage devices that can be recognized by Windows. This makes it possible to back up the whole hard disk along with partition information's and content of the disk. A feature useful if you need to change your old disk and transfer the content to the new disk.

 3: Partition and Volume Backup: Another great feature of Aomei Backupper (free system backup and restore software) if you just want to backup a partition or volume, not the entire disk. This feature will be your best choice. With this feature, you can backup one or multiple partitions/volumes (including dynamic volumes) to an image file. So that you can restore the entire partition or volume in the event of a system crash.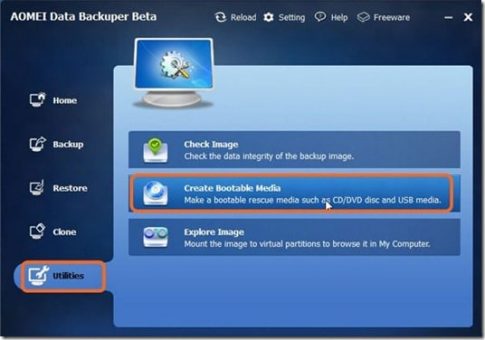 HOW TO RESTORE YOUR SYSTEM FROM BACKUP IMAGE:
Now that you have backed up your System, how to restore ?  If you are able to boot your system you can restore by starting the program and through its restore option.
You can restore your system from the Image file saved earlier. For this Aomei Backupper will restart your computer to rewrite the Image file content to the disk and reboots your system to its original state when the Image file was created. A very safe and reliable system backup and restore software.
But if your system fails to boot completely, Aomei Backupper has the facility to make a Bootable Rescue Disk for such an event. It will be a wise decision to create a Rescue disk first immediately after installing Aomei Backupper.
Configure your system Bios to boot from the CD/DVD drive with the rescue disk inserted in the optical drive and follow the easy to understand onscreen instructions to restore your computer completely.
NOTE: A few things to remember while using any system Backup and Restore Software.
1. After installation, immediately create the Bootable Rescue Media (CD/DVD) and keep it in a safe place.
2. Never save the Backup Image file in the same drive which you may need to restore. Save the Image file on a separate partition or a external Hard disk or even on a optical disk for safe keeping.
3. If you have any new documents or images on the drive you want to restore,copy them first since the restore image will over write and you will lose your files.
Have backed up you system lately ? Which System backup and restore software do you prefer ?
For further Reading visit the Maker's Site.
Watch A Video Tutorial of Aomei Backupper.
Download the Latest Version of FREE AOMEI BACKUPPER
Ben Jamir is the Founder and Author of Tipsnfreeware. He is a part time Blogger, sharing his experience and giving a Helping hand to Home users. You will find here the best Windows Tips,Tricks and quality Freeware.