System Optimization software for windows are standalone software's that simplifies the process of Optimizing your system.
Cleaning windows of temporary files, broken shortcuts,windows junk files,windows registry, internet browsing history, etc and many more. 
If your Computer is not behaving as it was few months back? Booting time increased, takes a long time just to open a picture folder or system freezes often. The mouse gets stuck and doesn't respond to any clicks or commands. Than your system needs some attention with system optimization software and give it a fresh breath of life.
GLARY UTILITIES, is a freeware. A free system optimization software for windows. Glary Utilities offers numerous powerful and easy-to-use system tools and utilities to fix windows. Speed up windows, maintain and protect your PC. It is designed for both novice and professionals.
User friendly interface and has all the facility like registry cleaning and disk cleaning, privacy protection, performance accelerator and amazing multifunctional tools.
It can fix dogged registry errors ( one of the main cause of system slow down and crashes). Wipe off clutters, optimize your internet speed, safeguard confidential files and maintain maximum performance. And all these comes for absolutely FREE for personal use.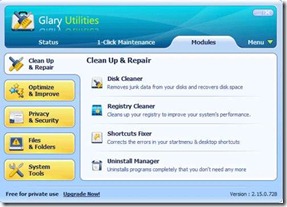 As the makers of this utility say's    " One click a Day for PC Maintenance, keeps any PC problems Away".
The utility has a very well organized interface, that makes the usage of all the tools provided very easy and comfortable too.
Apart from Regular defragmentation of your hard disk, installing a good antivirus and Firewall program, as system protection tools.
Regularly optimizing your computer with system optimization software, will keep your PC in top notch. 
Glary utilities also offers tools to manage start-up programs, memory optimization and it also offers government standard file shredder to securely delete data from your computer.
Glary utilities is one stop software for users who are looking for an effective and easy-to-use application to keep their system in tip-top shape. A must have system optimization software.
I have been personally using this software and to call it as a helpful, would be an Underestimate.
This is an one- stop- shop utility for optimizing and maintaining your Computer for best performance. 
So which system optimization software for windows do you use ? Share your views and opinion with us.
Download the latest version of GLARY UTILITIES FOR FREE.
Posted By: Ben Jamir
Ben Jamir is the Founder and Author of Tipsnfreeware. He is a part time Blogger, sharing his experience and giving a Helping hand to Home users. You will find here the best Windows Tips,Tricks and quality Freeware.