Free Virtualization software for Windows. 
Welcome to the Next Generation of Computer Security For Protection.
Protecting your Computer from Viruses and Malware, is an important matter that must be addressed by all users. Practiced realistically and seriously as possible.
Returnil System Safe, a virtualization software, is built with the end-user in mind. You can safely surf the internet or download a program you would like to try out. It uses a combination of antivirus, anti-malware, system restore and a virtual system to protect your computer from all types of viruses and other malicious threats.
Returnil System Safe 2011 uses an advanced anti-malware and virtualization technology. It clones (copies) your operating system and creates a virtual environment for your PC.
Instead of loading the native operating system, a clone is loaded that allows you to run your applications and perform your online activities in an entirely isolated environment.
Which means your actual operating system is never affected by viruses, Trojans, malware and other malicious threats. You just need to restart your PC, to bring back your system as before.
While working in the virtual environment, you have the option of saving documents and files so that your data will not be lost when the system is restarted.
The above combination of System Protection can be found in almost all the system. Nonetheless, under the same umbrella you should have another extra layer of system Protection, that is Virtualization(Virtual System).
Virtual Mode allows you to work in a clone of your operating system. Any changes you make in this environment can be discarded just by rebooting your system.
Returnil System Safe is a virtualization software for windows. Protects your PC from viruses by using Virtualization. With Returnil system safe, nothing that happens to your system is permanent. Just reboot and everything is back the way it was.
A Virtual Mode, similar to Sandbox. This allows you to run applications in an isolated environment. Protecting your main system, and finally the ability to Restore your system with just a few clicks.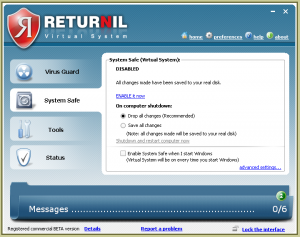 Important Key Features Of Returnil System Safe.
Keeps your computer safe when browsing the Internet from Viruses, Trojans, Worms, Adware, Spyware, Key loggers, Rootkits, unwanted content, and unwise configuration changes disappear with a simple reboot

 Protects you from the consequences of opening infected e-mail and/or attachments

 No danger of evaluating new software

 Integrates seamlessly with supported Windows Operating Systems

 Very Easy to use, simple to configure, and this is one tool in your arsenal that will be there to save the day when all else fails!

Scan your existing system for malware, viruses and other malicious programs. Clean or repair your infected files with ease.

Restart your PC and all the bad neighborhood stuff making havoc on your computer including any malicious files are gone. Your PC stays nice and clean.

Enter seem less virtual environment and do whatever your heart desires to your PC. Test new products, browse dark corners of the Internet with no harm.
Returnil System Safe is excellent virtualization software. Create a virtual system for testing new Software's and system configurations without fear of ruining your actual system.
Download the latest version of   Returnil System Safe.
Ben Jamir is the Founder and Author of Tipsnfreeware. He is a part time Blogger, sharing his experience and giving a Helping hand to Home users. You will find here the best Windows Tips,Tricks and quality Freeware.