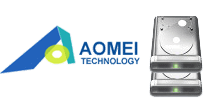 There are hundreds of FREE Windows disk Management tool available. The windows disk management tool offers bare minimum features. So many prefer's to use a standalone windows disk management tool.
Until recently the advanced features were available only in the premium version's of the software. But here is one FREE software that stands out of the crowd to give you the most advanced features. Features comparable to, if not better than most of the premium software's.
Aomei Partition Assistant Home Edition, this  is a full-featured freeware windows disk management tool. Can even be used commercially with no restrictions which is great news for home and small businesses.
I did test this Windows Disk management tool a freeware. What so special about this tool ?
Apart from the standard features like create, convert, hide, format, delete, wipe, resize, split, merge, and move partitions. Aomei partition assistant has the ability to shrink, extend an active partition and even copy the entire active partition to a new hard drive without loss of any data.
That's the most important feature here, data integrity is maintained.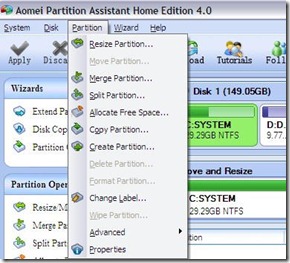 Aomei Partition Wizard, a free windows disk management tool. It has three Wizards to handle the most important jobs like Extend Partition, Disk Copy, and Partition Copy.
The Partition Copy Wizard let you specify Quick Copy, which will copy only the used space, or Sector-by-Sector copy (takes longer time). which copies the entire partition structure to a new hard disk. A very useful feature that comes handy if you need to transfer your system to a new drive.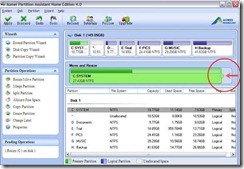 One notable feature I noticed was the slider feature for resizing a partition. Many users usually gets confused entering partition size in MB.
Here you can left click on the slider and easily move the slider and the tool instantly shows you the final size in MB. Also graphically shows the final size. As shown in the image on the left.
Aomei partition assistant has a familiar blue tone user interface which is quite pleasing to the eye. All the menus are listed on the left panel for easy access. Even a beginner will have no problem what so ever to perform all complicated tasks for disk management.
This software I feel is one of the best Windows disk management tool, as of now.

Specs: File size:3.43MB
Price:Free
Operating system:Windows 2000/XP/Vista/7/8.1/10
UPDATE as on 3rd.June 2016: Aomei Partition Assistant Home Edition has been renamed to "AOMEI partition assistant standard edition" as of version 5.2. Good news is A few more new features also has been added to this new version. Added features are
1. Fully support UEFI boot.
2. Align partition to optimize HDD or SSD performance.
3. Convert NTFS and FAT32 partition without loss of data.
4. Convert GPT and MBR disk without loss of data.
5. Support creating bootable disc based Windows PE 4 kernel.
6. More languages support, such as Portuguese, Hungarian, Polish, Russian, Vietnamese
VERDICT: I was requested to write a review on this product. In this review I couldn't cover all the capabilities (due to time constraints) of this otherwise very capable software.But what ever features we tested(the most important ones), Aomei Partition Assistant Home Edition  seems to be the most powerful and capable windows disk management tool  utility we've tried.
It's highly recommended for all users,to perform the most complicated Hard disk management task flawlessly and without the fear of losing any data.This is a must have tool for a beginner as well for advanced users., especially those with multi disc systems.Best of all you can use it for personal or even for commercial use without any restrictions.
Visit the Home Page of Aomei Partition Assistant Home Edition.
NOTE: This is not a paid review.Which windows Disk management tool do you use ? Your opinion and comment will be appreciated.
Posted By: Ben Jamir
Ben Jamir is the Founder and Author of Tipsnfreeware. He is a part time Blogger, sharing his experience and giving a Helping hand to Home users. You will find here the best Windows Tips,Tricks and quality Freeware.