Updated 25th. Aug 2016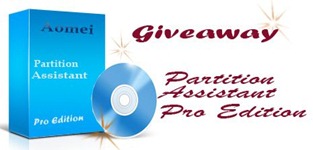 Giveaway:Aomei Partition Assistant Pro Edition Free License Key Aomei Technology the makers of Aomei Partition Assistant Home edition for which I wrote a review HERE, have generously provided 10(Ten) FREE licenses as a giveaway for their Premium Product Aomei Partition Assistant Pro Edition.
Since the windows disk management tool offers bare minimum features , many people prefer to use a standalone disk management utility.However Freeware's does have some limitations as it is understandable that the makers do need to sell their premium products too. Aomei Partition assistant Home edition by itself has sufficient features for any average Home users. However for the more tech savvy advanced users the Aomei Partition assistant Pro edition will come in handy with its more advanced features.
Well lets not waste time anymore but lets talk about how you can earn  the FREE giveaway license, you don't want to miss. You can read the  review of Aomei Partition Assistant Home edition here.
To get the Giveaway:Aomei Partition Assistant Pro Edition, you don't have to do much. If you are interested to get one free giveaway License for this software, please follow the Giveaway rules. Just scroll down this page and a few clicks will assure you for a free License. The download link and the free License key will be mailed to you so please don't forget to leave your valid E-mail add. 
Giveaway Rules: Don't worry this ain't tough just a few mouse clicks.
1. Please read the Review of THIS and/or THIS Aomei products and leave a comment and write the reason "Why you need this software" (This is mandatory).Kindly note, do not spam, your comments will be moderated as per our comment policy.
2. Like us or share on "Facebook" about this fine product (this is mandatory)
3. Tweet for us on Twitter.com (optional)
4. On completion of this two simple steps, just submit your name and E-mail add on the "Contact me" form. where I can send you the download link and the License Key.
UPDATE : 2nd. Oct.2014: CONTEST CLOSED
Even if the contest is closed. You can still Download the Free version of  AOMEI Partition Assistant supports all versions of Windows. This is the standered version.
Ben Jamir is the Founder and Author of Tipsnfreeware. He is a part time Blogger, sharing his experience and giving a Helping hand to Home users. You will find here the best Windows Tips,Tricks and quality Freeware.