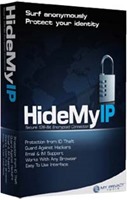 I.P address, short form for " Internet protocol". A Unique string of numbers separated by full stops that identifies each computer using the Internet Protocol to communicate over the Internet or network. Hide My IP, is a tool that hides your identity. 
Conceal your identity on the Internet. Surf anonymously so hackers can not monitor or acquire your IP address. Encrypt your internet connection, and protect your online privacy by changing your IP address with Hide my IP tool.
Hide My IP is a secure VPN tool, that helps to protect you from ID theft and guard against hackers. Hide my IP, is the most popular, best VPN (virtual private network) tool so far. Rated as the best tool.
How does Hide my IP works:
Hide My IP tool, fakes your IP address, shows a different IP address hiding your actual IP address. Since it's a fake IP address, it becomes an untraceable IP address. This is done by selecting from a list of fake IP addresses from across the world.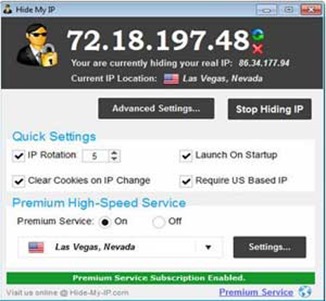 This makes it near impossible to track your actual IP location. The software uses open VPN technology combined with 256 bit secure encryption.
For extra protection, when you run hide My IP tool, use https servers in the database, over http servers. For fastest connection choose the location closest to you. You can also select a connection in the relevant geographical location. This will give you a fake IP address in that country.
Supported Operating Systems:
Hide My IP address tool is available for Windows and Mac. Also available for Android devices via the Google Play store. For Linux or iOS you can use via Chrome extension.
Why Hide My IP is the best ?
There are many such VPN tools available. While other companies charge you on monthly or yearly basis, to use their services continuously. On the other hand HMIP, you pay only once $29.95 (at the time of publishing) This entitles you to a subscription for life, at no extra cost.
Stand out Features of this tool:
1: Windows version features ability to choose which running programs are hiding their IP. A feature missing in other VPN providers.
2: Android version of the tool is free with no ads.
3: "Free Fridays" where each Friday all IP locations are unlocked for Android users.
4: Best of all Windows and Mac versions are available as a free 14 day trial. If you are not satisfied, don't buy.
Conclusion:
Hide My IP tool leads the pack , as far as VPN service is concerned. Ranked one of the best VPN tool. Go to their site and try the free 14 days trial offer and see what this tool can do,to save you from a lot of Internet hackers you never thought of.
Click on the links below to download the latest version
HMIP Address Tool download page.
HMIP for Android on Google Play
Ben Jamir is the Founder and Author of Tipsnfreeware. He is a part time Blogger, sharing his experience and giving a Helping hand to Home users. You will find here the best Windows Tips,Tricks and quality Freeware.