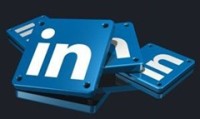 (Updated 8 July 2015). There is a minor change in the LinkedIn menu structure. So I had to re-write this post. 
LinkedIn is a on-line professional directory of individuals and companies. LinkedIn has millions of members in more than 200 countries.
While LinkedIn is a good tool for networking, yet it doesn't offer you a straight forward way of figuring out your LinkedIn username or profile ID. Should you need it to add a link to it on your Blog or site. So How do I find my LinkedIn profile ID ?


Log on to LinkedIn and hover your mouse over Profile Tab, from the drop down menu click on "Edit Profile".
In your profile window look at the URL address, just below your profile picture. There you will see your Profile URL as https://in.linkedin.com/profile/xxxxxx. The xxxx here are some numbers. This is your unique LinkedIn profile ID number. 

For example here my ID is 215739038. However I found that if I used this as my LinkedIn profile ID as a Link it didn't work and showed error. Though there is a way to use this ID as a link.The standard LinkedIn external profile address is

[ https://www.linkedine.com/e/fpf ] to this all you have to do is append your LinkedIn profile ID number

For example mine would look like this:
[ https://www.linkedin.com/e/fpf/215739038 ] but let me be frank, most of the time it does not work.
But You can edit your public profile URL. To Enhance your personal brand by creating a custom URL for your LinkedIn public profile. Here is How to Customize your LinkedIn Public Profile URL, to make more easy to remember and share within circle of friends.
Ben Jamir is the Founder and Author of Tipsnfreeware. He is a part time Blogger, sharing his experience and giving a Helping hand to Home users. You will find here the best Windows Tips,Tricks and quality Freeware.