---
How to access Desktop Icons without minimizing open files, in your active windows ? We all tend to keep our favorite programs and frequently used folders shortcut on the desktop for easy access. But how do you access one of your shortcut in desktop, if there are multiple windows open, normally we tend to minimize the open files one by one to reach and view the desktop icons. Well here is a simple TIP with which you can easily access all your Desktop Icons, without disturbing or minimizing your working files and folders.
STEP: 1
Right click anywhere on your Task bar, from the Menu that will pop up click on properties.
STEP: 2
From the Properties window click on the "Toolbars" Menu. Under this menu you will find five options with check boxes, at the bottom that is the last option where it says "Desktop" put a check mark on it than – click Apply– than Ok. As shown below.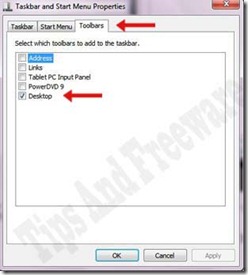 STEP: 3
That's it, after this you will see a small link as "Desktop" at the right corner of the Task bar with an arrow on it ,

if you click on the arrow it will display all your Desktop icons and shortcuts. Now you can easily access all your Desktop icons without minimizing your active windows.
Hope this TIP was of help.

---
Posted By: Ben Jamir
Ben Jamir is the Founder and Author of Tipsnfreeware. He is a part time Blogger, sharing his experience and giving a Helping hand to Home users. You will find here the best Windows Tips,Tricks and quality Freeware.