How to add Copyright Watermark to Images using Windows Live writer.
---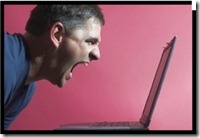 How to add a copyright water mark in all your images automatically in windows Live writer. As a blogger or a content publisher many of you may know how annoying it is to add watermarks to every Image that you publish. Stealing contents from the net (could be your blog) and Image hot linking are one of the most disturbing but unresolved problems of the blogging network.
Windows Live writer, considered as one of the best offline blogging software, offers a solution to automatically insert a user pre-defined water mark automatically in the image every time you insert a Image in your blog content.
To enable this feature, open windows live writer, and insert an Image, well if you are a WLW user you probably know how to insert a Image. But for the sake of new user, let me explain in brief, how to insert an image in WLW
Windows live writer has a familiar word type ribbon menu bar, on the right side, click on the arrow of the picture button as shown here.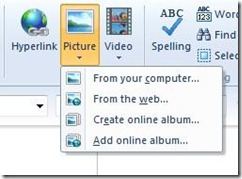 You will get several option from where you can choose to insert a image, if its from your computer select it and after browsing insert the selected image.
Once the Image is inserted in the WLW window, from the menu click on the "Picture Tools" menu to activate it, which will show a set of menus. From the menu list select "Watermark" as shown here.

On clicking the watermark you will get the following options.
see the following image.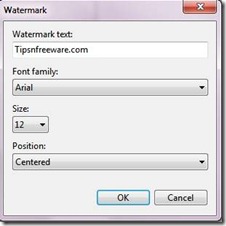 Here under the "watermark text" you can write whatever you want to, like your site URL or your name, you also have the option to choose the font, font size and for the position of the watermark in the image.Position Options you get is Bottom right, bottom left, top right, top left, or centered. As you type the watermark text it will be displayed instantly on the image, so you can see and decide the font, font size and position of the watermark live. Once satisfied click on OK button.
Next on the same menu window, click on the "Set to default" button. as shown below.

That's it, now every time you insert a Image in your blog content, windows live writer will automatically insert the "watermark" on the Image. If you have more than one blog you can set different water mark for all your blog the same way. If you need to change or remove the water mark in future, follow the procedure, but in the "Watermark" text change the text or remove the text (what ever you want) than click ok and than click on Set to default.
As an example of watermark inserted by windows live writer see the below Image.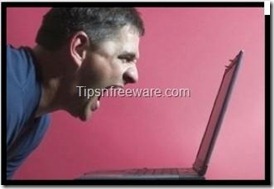 You may like to read "5 Reasons why a Blogger should use Windows live writer"
If you enjoyed this post, Please consider leaving a comment or subscribing to the Feed to have future articles delivered to your Feed reader
---
Posted By:
Ben Jamir