As featured images are important for your blog posts, similarly a custom thumbnail is important for YouTube videos that you upload. A custom thumbnail for your YouTube videos, can encourage to click and watch. As custom thumbnail for YouTube videos shows the exact content of the video to the visitors.
Recently only I have started making YouTube videos. And frankly I didn't like the default thumbnail that YouTube automatically displays. So I thought it would be a good idea to write this short tutorial on how to add custom thumbnail for YouTube videos.
LETS GET STARTED:
You may ask why we need to add a custom thumbnail for YouTube videos? You spend a lot of valuable time to create a video. Search engines values multimedia content more. So obviously you can generate and get more traffic from your YouTube channel.
Whenever you upload a video, YouTube automatically generates a thumbnail from the video. The image shown as thumbnail in YouTube, doesn't at all match with the content of your video.
As an example see the following image from YouTube…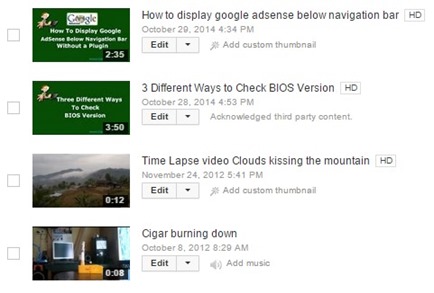 Tell me frankly which thumbnail's stands out, and which one tells you about the video content and likely to be clicked.Obviously the first two with proper heading and thumbnail.
ADD CUSTOM THUMBNAIL FOR YOUTUBE VIDEOS:
First prepare your thumbnail image : You can do it in any photo editing software like Photoshop or Gimp.

POINTS TO REMEMBER:
1: Thumbnails must large preferably 1280 x 720 px size.(minimum width 640 pixel)
2. Must be in JPG, BMP or PNG format
3. File size should be less than 2MB (that's the limit)
4. If you have a logo. Add that too, branding your channel.
Now log on to your YouTube account , got to "My channel". On the channel page at the top click on "Video manager". You tube will show all the videos you uploaded.
Click on the edit button of the video you want to add custom thumbnail.On the edit page on the right hand side click on the "Custom thumbnail" tab as shown below.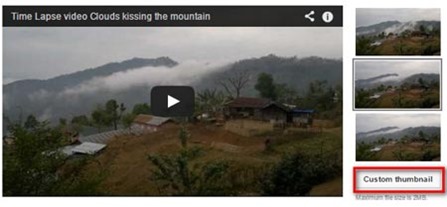 On clicking that windows explorer will open. Click on the thumbnail you prepared earlier. YouTube will upload the image and it will be displayed along with other thumbnails. Once uploaded, at the top click on "save changes"
Go back to your channel page, refresh your page and you will see video thumbnail has changed.
That's it , spend sometime , prepare some good thumbnail for all your uploaded videos and change it. That way all your videos will look more professional.
Ben Jamir is the Founder and Author of Tipsnfreeware. He is a part time Blogger, sharing his experience and giving a Helping hand to Home users. You will find here the best Windows Tips,Tricks and quality Freeware.